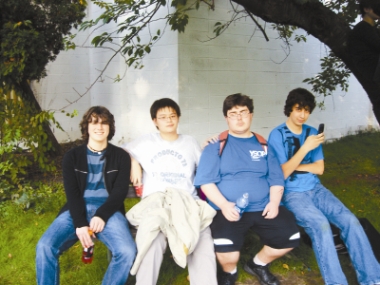 Jack in New York
    In my first year in the United States, my best friend, Gabe, asked me a question: "How does dog meat taste to you?"
    This was a trap. No matter how I answered, he would know I had eaten dog meat before. Therefore, inevitably, we went into a discussion on whether eating dogs is right or not.
    Not bragging, I am a good debater, even when I'm not using my first language. I said: "We raise dogs in the same way we raise chickens and pigs. If it is moral to eat chicken and pork, what is wrong with eating dogs?" Gabe did not know how to respond. I could see frustration in his eyes.
    Three days later, when I had forgotten about this debate, Gabe came to me with his own theory and logic. He explained that dogs, which were originally wolves, were trained for human company through artificial processes. Consequently, humans should treat them as company, different from chickens or pigs that were fed originally as food resources. He ended up with an interesting conclusion, stating that eating dogs was treacherous.
    This debate was so powerful that it had me thinking for a long time. I started to think about some serious questions after this debate, nothing about compassion for pets or humanity or anything even close, but what struck me was the way Gabe reacted.
    He was clearly shocked and frustrated. However, he didn't give up and thought for three days to find an answer. He was not a pet-lover, not at all. I wondered, what made him try so hard on this, after failing and becoming frustrated for days, and still trying so hard to find an answer.
    We had debates like this a lot, and I usually won. Why did he try so hard on something he didn't really have passion for?
    To be honest, I don't have a clear answer for this. I just believe that this relates to Western culture and Western thinking. I came to realize what I should really study in the United States. It should not be simply knowledge or language, but the Western model, more specifically, the Western thinking model and its advantages as well as disadvantages.
    According to Spair Whorf's theory, only when we speak English, and think in English in our mind, can we truly comprehend the Western thinking model. I guess this could be the reason why English is a requirement in the Chinese education system.