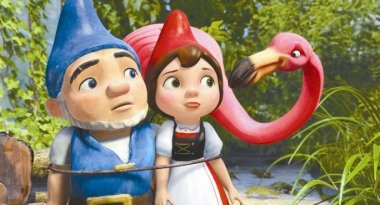 3-D动画片《罗密欧与朱丽叶》 
    In the 3-D animated "Gnomeo and Juliet," as in the "Toy Story" movies, these items come to life only when the humans aren't looking, which seems to be most of the time.
    The humans — Miss Montague (Julie Walters), and Mr. Capulet (Richard Wilson) — live in attached houses at 2B and Not 2B Verona Drive, Stratford-Upon-Avon. Unknown to these rival gardeners, their lawn decorations continue their feud in lawn-mower derbies and midnight guerrilla operations. Although the Montague side wears blue and the Capulet side red, the color coding only goes so far in helping identify characters, many of whom are not properly introduced in a movie that is seriously overpopulated. The 3-D is barely noticeable.
    Still there is some fun to be found in this goofy riff on Shakespeare, released by the Touchstone unit of Disney, directed by Kelly Asbury ("Shrek 2") and overseen by Elton John, the executive producer. "Crocodile Rock," "Your Song," "Bennie and the Jets" and "Don't Go Breaking My Heart" are among the hits shoehorned into this semi-musical, along with two new Elton John-Bernie Taupin collaborations.
    True to their porcelain identities, the lovers, who first meet by accident while in disguise are not typically sleek Disney sweethearts. Gnomeo (voiced by James McAvoy) is a portly young bloke with a thin white beard, and Juliet (Emily Blunt), who lives atop a fountain pedestal (to keep her from being "chipped") is wholesomely pretty but unglamorous by Disney standards.
    The funniest character is Juliet's best friend, Nanette (Ashley Jensen), a long-lashed frog-shaped fountain ornament and hopeless romantic with an ear-to-ear smile, who goes all mushy at the notion of doomed romance. The most poignant character, Featherstone (Jim Cummings), is a pink plastic flamingo with a Cuban accent who the lovers liberate from a shed in an overgrown garden.
    "Gnomeo and Juliet" is not without laughs. Some of the funniest bits involve an online expedition to purchase a monstrous lawn mower, the Terrafirminator (Hulk Hogan), whose arrival in the red side's garden leads to a climactic battle in which the lovers are buried in a pile of rubble.
    Although the movie improves as it progresses, it is still a collection of jokes lacking the magic to touch people. The source material, after all, is a romantic tragedy. Fiddling with the ending to make it a brighter family-friendly lark has its cost.
    (SD-Agencies)