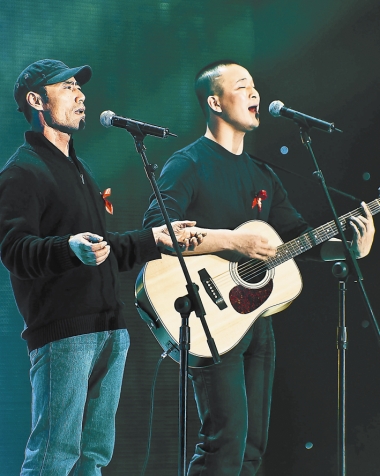 XURI YANGGANG, a migrant worker vocal duo who became a national sensation last year, have been stopped from performing their signature song by the tune's original singer/songwriter, triggering heated public debate this week in a dilemma between morality and copyright laws.
    Wang Xu, 44, from the central Henan Province, and Liu Gang, 29, from the northeastern province of Heilongjiang, are among millions of migrant workers in Beijing. In August, the duo impressed tens of millions of Internet users after a video — showing them singing the Chinese song "In the Spring" in their shabby 6-square-meter apartment — was posted online by a friend.
    In the video, the pair are shirtless and sweating, singing: "With no credit card, no girlfriend, or a home with hot water, I am singing happily, on the streets, under bridges or in wild country, though nobody pays attention to the music. If someday I am found dead, please bury me in the spring."
    Their hoarse voice and powerful rendition was considered a true portrait of the country's poor migrant workers and reportedly moved thousands of netizens to tears. Some media even said the duo sang better than the song's original singer/writer, Wang Feng, a Beijing rocker.
    Also moved by the video, in November, Wang Feng invited the duo to sing the song at the rock star's solo concert in front of about 80,000 fans at the Shanghai Stadium.
    The guest performance with Wang Feng gave Xuri Yanggang overnight stardom and the duo were reportedly to have attended a string of commercial shows, singing the same song without Wang Feng's authorization.
    On Feb. 2, the Spring Festival Eve, Xuri Yanggang was invited by China Central Television to perform "In the Spring" under Wang Feng's authorization at the Spring Festival Gala, one of the most-watched TV shows in China.
    However, Wang Feng has now officially banned the pair from singing his song in the future.
    "The reason I allowed them to sing my song at the beginning was to help them, but I have to stop it after finding out my kindness was being abused," said Wang Feng in a blog post Feb. 11.
    He said his company had suggested to Xuri Yanggang on several occasions that they sing their own songs but they continued to use his song.
    According to media reports, the duo's performance payment has climbed to 50,000 yuan (US$7,900) for a show since their performance at the Spring Festival Gala catapulted them to stardom.
    "I believe there are numerous budding singers performing my songs at various nightclubs every day but they are not well paid. If you earn more than 10,000 yuan for one performance, it is no longer making a simple living. It's not acceptable for Xuri Yanggang to sing my songs for huge commercial use. I'm also protecting my work team's legal rights," said Wang Feng in his lengthy post.
    He said his decision did not target just the duo, but was instead intended to highlight the value of copyright.
    This week, Xuri Yanggang posted their apologies to Wang Feng on their micro- blog and admitted they knew little about the rules of show business. "No matter what, we both owe a debt of gratitude to Teacher Wang Feng. We understand and respect his decision. We appreciate his help and encouragement in the past and are sorry for all the trouble."
    Wang Feng's attitude in trying to keep the song he wrote for himself has created an online storm in China. Some netizens have described him as narrow-minded and selfish while others say he is just protecting his rights.
    Some netizens said Wang Feng was, in fact, protecting Xuri Yanggang, because the duo's musical career would not last long if they continued to sing other people's works without any original songs of their own.
    "This controversy reminds people about the importance of copyright in the music industry," said Liu Ping, deputy director general of the Music Copyright Society of China. "As the owner of the copyright, Wang Feng has the right to decide who gets to sing his songs," Liu said.
    Jia Yinan, a guitarist in Wang's band and also the song's arranger, said that when something happened, people tended to stand by the weaker party, but a rational attitude was needed to make the right judgment.
    On Thursday, Li Dong, the duo's manager, said although he was not certain about the two migrant workers' future, they would still sing rock songs. Xuri Yanggang also expressed the wish that Wang Feng write a new song for them.(SD News)