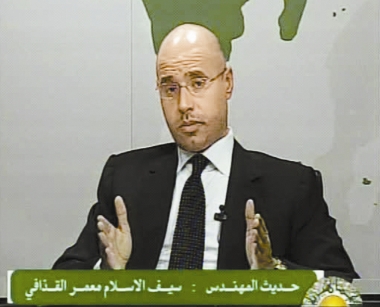 THE children of Moammar Gadhafi were increasingly engaged in recent months in covering up scandals fit for a "Libyan soap opera," including negative publicity from extravagant displays of wealth, such as a million-dollar private concert by pop diva Beyonce, according to a new batch of secret diplomatic cables released Wednesday.
    The assessments by U.S. diplomats were published by the secret-spilling Web site WikiLeaks.
    Growing anger over crass behavior by Gadhafi's offspring, such as son Hannibal's 2008 arrest for beating servants in a hotel in Switzerland, may have helped spark the current uprising. "The family has been in a tailspin recently," a cable assessed a year ago.
    The diplomats at the U.S. Embassy in the Libyan capital of Tripoli describe how Gadhafi's children have carved out spheres of influence.
    Muhammad, the oldest son, dominated telecommunications, another son, Muatassim, was National Security Adviser, Hannibal was influential in maritime shipping, Khamis commanded a top military unit, while daughter Aisha ran a quasi-governmental organization. Another son, Saadi, was given the job of setting up an Export Free Trade Zone in western Libya.
    Seif al-Islam Gadhafi cultivated a respectable image as Libya's face to the West, and had locals rallying for him to be heir-apparent, the 2010 cable said. However, that image may well have been destroyed in a single instant earlier this week when he went on TV to threaten anti-government protesters with civil war if they persisted. (SD-Agencies)