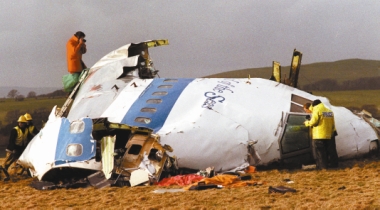 LIBYA'S ex-justice minister Wednesday was quoted as telling a Swedish newspaper that Moammar Gadhafi personally ordered the Lockerbie bombing that killed 270 people in 1988.
    "I have proof that Gadhafi gave the order about Lockerbie," Mustafa Abdel-Jalil was quoted as saying in an interview with Expressen, a Stockholm-based tabloid.
    Abdel-Jalil, who stepped down as justice minister to protest the clampdown on anti-government demonstrations, did not describe the proof.
    Expressen's online edition said its correspondent interviewed Abdel-Jalil outside the local parliament in the Libyan city of Al Bayda.
    Abdel-Jalil told Expressen that Gadhafi gave the order to Abdel Baset al-Megrahi, the only man convicted in the bombing.
    "To hide it, he (Gadhafi) did everything in his power to get al-Megrahi back from Scotland," Abdel-Jalil was quoted as saying.
    Al-Megrahi was granted a compassionate release from a Scottish prison in August 2009 on the grounds that he was suffering from prostate cancer and would die soon. He is still alive.
    (SD-Agencies)