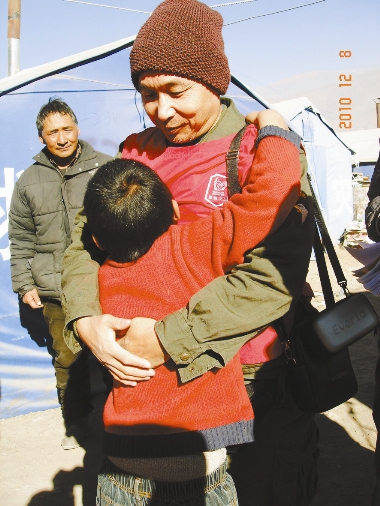 Wang Yuanyuan
    MANY people know of a charity organization called "Home of Love" in Bao'an District, where homeless people can seek help, but not many know that the award-winning charity home was supported by only one migrant worker and his wife.
    This migrant worker is Zhang Haiwen, 54, from a small town in Hubei Province.
    In recent years, Zhang has helped more than 2,000 homeless people and others seeking help. By the end of last year, he had found jobs for 1,092 people in Shenzhen without making a penny himself.
    He is one of the city's "Love Ambassadors," five-star volunteers, "Civilized Citizens" and charity award winners. But, in real life, he is just a compassionate deliveryman busy helping others and worrying about money.
    "There are many difficulties and problems and I also thought about giving it up, but I just cannot help myself when I see those who really need help. With just a little money you may save a life, so I cannot be that selfish. Life is hard, but I have peace in my heart," he said.
    A charity home
    Zhang's charity work started in 1999 when he arrived in Shenzhen after his divorce and worked as an electrician at a company in Longhua Subdistrict in Bao'an.
    One day he saw a young woman had fainted on the street. Many people were looking at her, but Zhang was the only one who went to help her. When he found she was sick, he took her to Longhua People's Hospital and paid her medical fees. "It cost me almost all my salary and when I returned home, I had just less than 10 yuan (US$1.52) in my pocket." When he went to visit the woman the next day, he was told she had left with her family.
    Since then, Zhang started to pay attention to homeless people on the street. "There were a lot of them on the street and I saw their hardness and could feel their bitterness. It made me feel so sad, so I decided to help them," he said.
    Sometimes, when he saw someone in really bad circumstance, he invited them to his rented apartment, offering food and accommodation and helped them to find a job.
    Later, Zhang started a delivery service with a tricycle. Through his job, he came to know many people and companies in the neighborhood. "If I knew a company was looking for staff, such as security guards or cleaners, I introduced those living in my apartment to work there," he said.
    Gradually, he became well-known in the neighborhood and many homeless people went to seek help from him. Security guards or assistant police also took homeless people to him. With the number of people growing, he had to move out of his tiny apartment. He built a temporary iron house at a construction site and lived together with the homeless people.
    Through his efforts, many companies started to join the charity work and always went to Zhang if they needed staff. One company even gave him four dormitories for free to help house the homeless. So, in 2003, Zhang's "Home of Love" was finally set up in Dalang Subdistrict and registered with the city civil affairs department.
    Financial difficulties
    Although Zhang has become known as a philanthropist, he still faces big problems with money.
    "I can't raise donations according to the regulations, so all these years, the entire organization has been supported by me and my wife, whom I met in 2006."
    Zhang makes about 3,000-4,000 yuan a month, while his wife, Kong Zaixiang, earns only about 2,000 yuan a month. They spend nearly all the money on the home, buying food and other necessities for those in need.
    "When we find a job for a person, we also prepare living necessities, such as bedding and clothes. We also give them some pocket money because they are not paid until the end of the month," he said.
    Although the government gives him about 10,000-20,000 yuan in subsidies a year, it is far from enough. Apart from the homeless, many people also sought help with fares to return home and Zhang never rejected them.
    But the biggest expense was helping pregnant single women have an abortion. "Young migrant workers often get themselves into trouble. These girls cannot afford to raise a child and turn to me because they don't want their parents to find out. I always help them, but it is very difficult. I can't take them to unlicensed clinics because it is dangerous and could cause two deaths. So I have to take them to public hospitals. It cost at least 2,000 yuan for the operation and I also have to run around the city to get approvals for the surgery," he said. In 2010, Zhang spent at least 30,000 yuan on helping these girls.
    Although money is short, Zhang never thinks of giving up. "I know their troubles too well and cannot turn them down. When you see their faces, you cannot help helping them. If I let them go, I would feel guilty," he said.
    Zhang said there was one person he had to thank — his wife. "I met her in 2006 and she has been so supportive. To fulfill my dream, she has to work hard to maintain the daily expenses and she has never complained," he said.
    Future plans
    Zhang is planning to set up a company to help people find work in Shenzhen.
    "I know it is impossible for me to maintain a home like this forever, so I think setting up a company could reduce costs. But I will charge the workers nothing, just charge companies if staff are introduced successfully," he said.
    "It is not a million-dollar business, just a way to ease the financial burden," he said.
    On March 1, Zhang will set off to Yushu to celebrate the Tibetan New Year with orphans and disabled students at Yushu No. 2 Primary School. "Along with about 100 volunteers from my team, I built a strong relationship with them after the earthquake and often send them goods and money.
    "I am so lucky because I have about 520 volunteers coming and going to help us operate the home," he said. Most of the volunteers are those who Zhang had helped.
    "I think my work is an inspiration. Those who used to receive have learned to give back. So every time I organize some charity activities, they come immediately without saying a word. We serve at the high-tech fair together, we visit the elderly together and we go to Yushu in Qinghai Province to help the orphans together. It is a big team and we are a good family," he said.