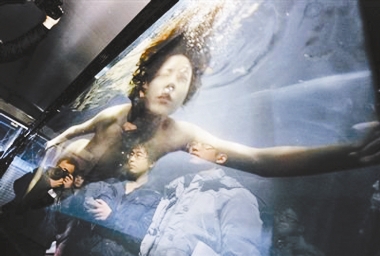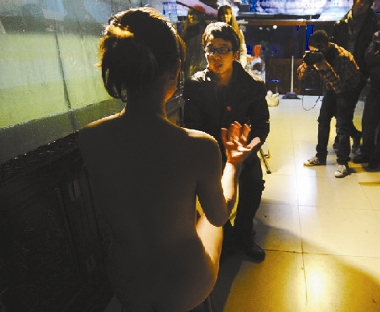 Li Hao
    ON Jan. 6, a 19-year-old college student put herself naked in a fish tank in an aquarium in Beijing, asking a photographer to take pictures for her own photography works, titled "Lolita."
    She is Su Zizi (not her real name), an art student at the prestigious Renmin University of China (RUC), who has become a new media sensation in China for her role as a nude model.
    She became a nude model to earn her tuition fees and later fell in love with the art of body art photography.
    On Nov. 23, she put 16 of her nude photos with poetry on display at an exhibition on the RUC campus, inviting both criticism and acclaim.
    Some said her so-called body art was one step from pornography and some admired her independence, audacity and originality.
    She named the exhibition "Who am I."
    She is now preparing for a second photography exhibition in Beijing on March 18.
    "This exhibition will be very, very shocking," Su said in an interview with CNN on Feb. 18.
    Turning point
    It is hard to believe that a student at one of China's key universities had been a rebellious girl who smoked, used ketamine and got into fights.
    Su was born into a poor family in Yichang City of Hubei Province. Her parents divorced when she was a child and she was raised by her grandparents.
    An underachiever at school, she became numb to the beatings and scolding of her father who had remarried.
    Su's grandmother suffered a stroke after being thrown out of her home by a government land requisition team. This devastated Su.
    "I went to the local government to complain on a snowy day. However, nobody paid any attention to me even when I knelt at the front door of the government office. Even the security guards looked at me with contempt," Su said in an interview with the Guangzhou-based Southern People Weekly in February.
    Since then, she became determined to study hard to change her situation and have a say in society.
    Naked model
    Burdened by high tuition fees, Su started doing odd jobs when she entered art school. This included sales, dish washing and being a print model.
    At the end of 2009, she saw an advertisement for a photographic studio recruiting models on the Internet, offering 500 yuan (US$76) per day.
    She had an online interview with the studio's woman owner in her dormitory.
    "She asked me to take off all my clothes and stand on a stool to show my physique.
    "I was nervous even though there was nobody [else] in the dormitory. I used my bed sheet to cover the dorm window," she said.
    The woman was satisfied and offered 10 consecutive days of shooting.
    She then became a figure model without her classmates knowing.
    From business to art
    After modeling for about three months, she obtained a better understanding of the industry.
    "There are three kinds of body photography: formal shoots organized by photographic associations, commercial shoots and photographic shoots. Many photographers shoot nude models not only for their personal collections, but also to sell to magazines or Web sites," she said.
    On one occasion, a photographer asked her to make some obscene poses and she refused.
    "The photographer yelled at me: You have already taken off your clothes, why are you still pretending to be shy?" she said.
    Su started reducing the frequency of figure modeling and started modeling wedding gowns and being a print model.
    "However, I have become fond of using my body as a medium to create my own artworks," she said.
    She had photographers take pictures of her standing naked in front of commercial residential buildings to reflect people's shrinking living space.
    Her creations include the naked performance in the fish tank in an aquarium, "Lolita."
    "She wanted to show a suffocating situation which could only be shot in an undesirable environment," said Wang Wei, the photographer who Su asked to shoot her in the fish tank.
    Su became the body model of herself.
    When "Lolita" was completed, Su was interviewed by more than 10 journalists in turn, which was designed by her for another work titled "Interview."
    Controversy
    "My mother was the first person to learn of my body modeling and she thought I had gone crazy. However, she gradually understood when she saw I was persistent," she said.
    Su did not tell her classmates about herself until she was accused of being a prostitute.
    "As a model, I often arrived back at the dorm very late, which made some of my classmates think I was working as a prostitute.
    "There is a rule in the body modeling industry that we don't reveal what we do to avoid any influence on our daily lives," said Su, who used "Su Zizi" in public instead of her real name.
    However, the prostitute suspicion made Su think it would be better to make clear she was a body model, a legal profession.
    She painted a copy of her nude photo to enter a fine arts exhibition on campus, which received both approval and criticism.
    "Some said behind my back that I'm shameless," Su said.
    Some people blamed her for not making a "decent living" for herself.
    Despite the criticism, Su was applauded by art professionals.
    "I hope we can do our utmost to protect this seedling (Su) and give her a chance to grow into a tree," said Tan Jun, a movie director, at the opening ceremony of Su's "Who am I" exhibition.
    The art director of the New Millennium Gallery in Beijing, Zhang Siyong, said Su was at a stage of becoming a pioneering artist.
    Zhang spoke highly of her works such as "Interview," which he said could "overshadow many artists."
    Future plan
    "At the very beginning, I became a body model for money, because I had no choice. But now, I love body art photography and I have already learned how to use body language to express inner beauty," she said.
    "In the future, I could become an excellent human body photographer," she said.
    Su's next exhibition — which she says will be "shocking" — is due to open in Beijing on March 18.
    A spokesperson for her university said earlier that the school encouraged students to be creative as long as the law and school regulations were not violated.
    Su has expressed the hope that her work will change the prejudice most Chinese have against nude art.
    "Prejudice exists when people don't know or understand something. That is why I hope to help more people appreciate body art," she said.