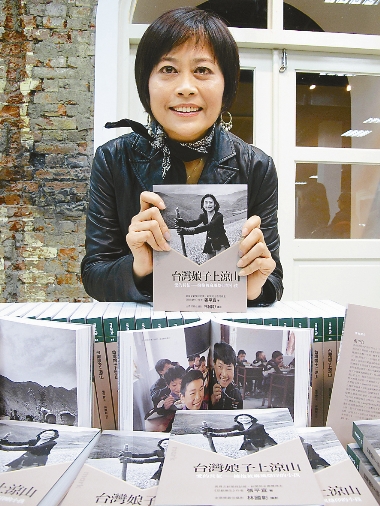 "Perhaps (it is) the instinct of a mother. I'm a mother of two. When I first visited the village, children at the village did not even know what cars looked like — they were born with no hope. I just cannot turn away."
    — Zhang Pingyi
    Taiwanese volunteer at a mainland lepers' village
    Jane Lai
    THERE is a Taiwanese woman who has recently attracted a lot of attention on the mainland.
    She used to be a journalist for China Times, a newspaper in Taiwan, but she quit her job with an annual salary of more than 1 million new Taiwan dollars (US$34,000) and spent 11 years teaching children at a lepers' village in Southwest China's Sichuan Province.
    The "crazy" woman, Zhang Pingyi, first visited Dayingpan Village in 2000 for an interview. After that, she was determined to live a different life.
    Before she arrived, children at the village did not even wash their face, brush their teeth, have a bath, or maintain personal hygiene, still fewer had seen the outside world— although they were not lepers, they had been neglected.
    Thanks to Zhang's persistent efforts, their lives have been changing for the better and a lot of volunteers from all over the country have gone to the village that used to scare people away.
    Stunning scenes
    Although 11 years had gone by, Zhang can still remember the scene when she first arrived at the lepers' village.
    A lot of leprosy patients were crawling on the ground and traces of blood were left behind. "Part of their bodies had been eaten by bacteria, just as candles are distorted after burning," she recalls.
    The local government decided to designate a village for the treatment of lepers in 1959 in an attempt to control the spread of leprosy. Since then, Dayingpan Village has been known as "lepers' village" or "invisible village" and isolated from the outside world for 40 years.
    The only two-room school at the village was located in a mountain 1,800 meters above sea level and its sign, the only thing that was of some value, had been stolen.
    About 70 students squeezed in and stood to listen to the class — all were so dirty that only their eyeballs could be seen on their faces.
    If the only school collapsed, Zhang just could not imagine what the children's lives would be like. She then begged the teacher: "You stay and I will be raising money to build a new school here."
    In 2003, she said goodbye to her favorite job as a journalist and started to write articles for newspapers, give speeches and sell books to persuade people in Taiwan to help children at the village. Her husband, a doctor, gave her NT$10,000 a month to support her.
    Then Zhang returned to the village to build a new school. However, it was just a beginning. Zhang had to ceaselessly persuade the parents there to let the children give up herding sheep and begin study. To get teaching resources from the government was another difficult task. But she had managed to do all of that.
    When asked what prompted her to make such a decision, she replied: "Perhaps (it is) the instinct of a mother. I'm a mother of two. When I first visited the village, children at the village did not even know what cars looked like — they were born with no hope. I just cannot turn away."
    Personal hygiene
    The woman knows the family background and characteristics of all her students. A 5-year-old boy named Yihuokegu is the youngest and most earnest one at school. He likes to go to school because there he can see his father Yihuobudu, a 22-year-old Grade Six elementary school student, Zhang says.
    There are a number of over-aged primary school students. Or to be more exact, there were no primary school graduates in the village at all before 2005.
    For Zhang, the children are just like her children and she likes to be close to them despite the risk of being bitten by fleas.
    She taught the children to wash their face, brush their teeth, have a bath and maintain personal hygiene. According to a TV journalist, if two toothbrushes could be found in a local house, then they must belong to the two that had studied at Zhang's school.
    Thanks to her endeavor, Dayingpan villagers have been covered by the national census since 2005 and the children there are now benefiting from the nine-year compulsory education. Last year, she hired a Taiwanese water expert and brought pipes from Taiwan to build dozens of cisterns around the school.
    Now the school boasts 13 government-sponsored teachers and more than 100 students have graduated. It has also attracted a lot of children from neighboring villages.
    A lot of volunteers have joined her in helping the children at the village over the years, the Taiwanese woman says gratefully.
    Back to society
    Zhang has been thinking about how to guide the children back to the society. It is a tough task because people tend to shun lepers.
    Some 99 percent of the bacteria can be killed one week after lepers take medicines and two years' medicines can help lepers recover, she says, pointing out that the prejudice against lepers is unfair.
    In order to help the young people find jobs, she "forces" her brother, who is operating a factory in Qingdao in East China's Shandong Province, to provide vocational and technical training to them. She also helps the graduates contact companies and organizations to land them a job.
    Now she is busy with another task — to get the children their own personal identification cards.
    Many of her friends in Taiwan do not understand why she is so crazy about traveling to a lepers' village and living there. But Zhang knows she has an important task at the village.