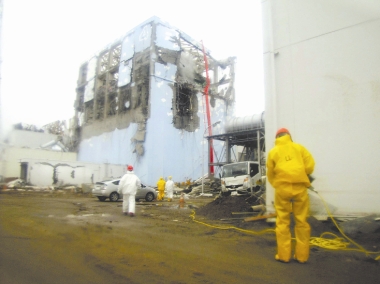 A crew of technicians, braving radiation and fire, became the only people remaining at the Fukushima Daiichi Nuclear Power Station and Japan's last chance of preventing a broader nuclear catastrophe.
    THEY face explosions, fire and an invisible enemy — radiation that could kill them instantly or decades from now — as they race to avert disaster inside a dark, overheated nuclear plant.
    The emergency workers at Japan's crippled Fukushima Daiichi Nuclear Power Station are emerging as heroes in the wake of a disaster spawned by an earthquake and a tsunami. They are dubbed by some as modern-day "samurai."
    "I don't know any other way to say it, but this is like suicide fighters in a war," said Keiichi Nakagawa, associate professor of the Department of Radiology at the University of Tokyo Hospital.
    They are also known as the "Fukushima 50" who are risking their lives exposed to dangerous levels of radiation to try to stabilize a power plant and prevent a nuclear disaster becoming a catastrophe.
    They are called the "Fukushima 50" because the workers rotate in groups of 50. There are in fact about 200 people at the plant, taking turns eating and sleeping in a decontaminated area about the size of an average living room.
    The still-anonymous emergency workers rush in and out for 10 to 15 minutes at a time to pump sea water into the plant's overheated reactors, monitor them and clear debris from explosions. Any longer would make their exposure to radioactivity too great.
    Even at normal times, workers wear coveralls, full-face masks with filters, helmets and double-layer gloves when they enter areas with possible radiation.
    Some of them carry oxygen tanks so they don't have to inhale any radioactive particles into their lungs.
    Engineers have now linked up an external electricity supply to all six reactors and are testing system components and equipment in an effort to soon restart the cooling systems and stabilize the reactors.
    Power has been partially restored to the control room of the No.3 unit. Previously workers had to grope around in the dark, using flashlights, without an air-conditioning system to extract elevated radiation.
    The highest reading among various locations that had to be accessed by the workers hit 600 millisieverts, equal to several years of the daily exposure limit, according to statistics released by the Tokyo Electric Power Company.
    Millisieverts measure exposure to radiation, which can cause cancer and birth defects. Severe exposure can cause burns and radiation sickness — nausea, vomiting and harm to blood cells.
    A typical individual might absorb 6 millisieverts a year from natural and manmade sources such as X-rays.
    The average dose for a nuclear plant worker is 50 millisieverts over five years.
    Last Wednesday, Japan's Ministry of Health, Labor and Welfare raised the maximum legal exposure for nuclear workers to 250 millisieverts from 100 millisieverts. It described the move as "unavoidable due to the circumstances."
    Nuclear officials says this week that three workers have been exposed to radioactive elements and two of them were injured and hospitalized.
    Fumio Matsuda, a spokesman for the nuclear safety agency, says the workers were injured while laying electric cables Thursday at Unit 3. Two of them were exposed to radioactive elements on the skin of their feet, and taken to hospital for treatment.
    About two dozen people have been injured since the plant began leaking radiation after suffering tsunami damage March 11.
    The situation at the plant remains "very serious," the International Atomic Energy Agency said Thursday.
    As the "Fukushima 50" continue to work at the plant, their families are concerned for the safety of their loved ones.
    "My dad went to the nuclear plant. I never heard my mother cry so hard. People at the plant are struggling, sacrificing themselves to protect you. Please dad come back alive," read a tweet by Twitter user @nekkonekonyaa.
    "My husband is working knowing he could be radiated," said one woman, according to ABC News.
    He told her via email, "Please continue to live well. I cannot be home for awhile."
    An email from the daughter of one volunteer was shared on Japanese TV and read, "My father is still working at the plant — they are running out of food… we think conditions are really tough. He says he's accepted his fate… much like a death sentence."
    Junko Ooigawa and her 5-year-old son, Atsushi, are living in the Saitama Sports Arena, which has been turned into an evacuation center for an estimated 2,300 people, most of them from Fukushima. Junko's husband, Tsutomu, works at the Fukushima power plant.
    "We are in a situation that we need to start thinking ahead and making some serious decisions for our future," Ooigawa said.
    She's worried about her husband. They can only talk when he calls, which usually is daily.
    At first she said: "I was able to see him once and I get to hear his voice daily over the phone, so I am fine."
    But she acknowledged concerns about his health. He tells her he is safe but does not reveal details about the situation at the plant.
     (SD-Agencies)