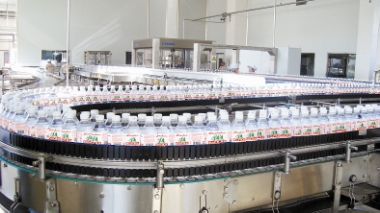 LAOSHAN Mineral Water was established in 1905, after a German businessman saw several hedgehogs drinking water from a spring on Laoshan Mountains. He had a taste and found the water particularly fresh. He bottled a sample and tested it back in Germany. Surprisingly, the water was of even better quality than the famous mineral water of France, so a business was started to produce this amazing Chinese water.
    Laoshan Mineral Water contains several mineral compositions, such as magnesium, potassium and calcium, and other rare trace elements, which are very good for human health, and was called the "Chinese Evian" and "Nobel of Water." As the country's first bottle of natural mineral water, it has won many national awards such as China's Famous Brand, China's Top Brand and China's Famous Brand in the Mineral Water Industry.
    However, the famous Laoshan Mineral Water faced a downturn in the 1990s due to lack of proper management. In 1997, it could only produce about 7,000 tons of water. Luckily, the legendary entrepreneur Zhang Zhengxin took over the company.
    Zhang took a series of revolutionary measures to build up the brand again, such as improving product quality, introducing advanced equipment, improve marketing and expanding brand influence. At present, the water is sold in more than 10 countries and regions, such as the United States, Britain, Japan, Singapore, Indonesia, Australia, Hong Kong and Macao. The export volume of the water was the highest among Chinese mineral water brands.
    There are now more than 10 products of Laoshan Mineral Water, such as soda water, herbal water and coke water.
    More than 300,000 tons of the water were sold in 2010 and with the production base and a 10-million-ton natural water project being started, the amazing Laoshan Mineral Water will enter a new era of development.
    (Wang Yuanyuan)