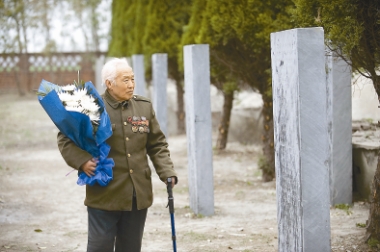 Wang Yuanyuan
    "I am very healthy, so I decided to fulfill the commitment and accompany them for the rest of my life."
    — Ou Xingtian
    retired military official
    ABOUT 60 years ago, Ou Xingtian made a pact with his comrades-in-arms before a battle that the one who survived would protect the graves of the dead. Sixty years on, Ou is fulfilling his commitment by sacrificing a comfortable retirement to build a cemetery of martyrs at a small village where they fought and died together.
    Located in Anhui Province, Ou's cemetery of martyrs might not be nationally famous, but it cost Ou 30 years of hard work and his life savings. Over the past 30 years, he found and transferred the graves of nearly all the 2,400 martyrs who fought there.
    In his spare time, he pours some wine on each grave and has "some little chats with them."
    "I am very healthy, so I decided to fulfill the commitment and accompany them for the rest of my life," he said.
    An unforgettable pact
    Qingliang Village is a small village often neglected by tourists, but it was an important place during China's War of Resistance Against Japan (1937-1945) as it was a western gate to the Huaibei-Su-Wan anti-Japanese base area. Well-known commanders such as Peng Xuefeng, Zhang Aiping and Zhang Zhen fought there.
    Ou was born in 1925 in the nearby Oujiazhuang Village and joined the Army when he was 14. As an inspector, he had witnessed the death of more than 2,400 soldiers.
    "The fiercest battle in the whole area occurred here. Sixty soldiers fought against hundreds of Japanese soldiers. The battle lasted a whole day and eventually we ran out of food and ammunition. Their blood had made the river red, but we won," he said proudly.
    Although it was about 60 years ago, Ou still remembers their names vividly. "It's a friendship between the living and the dead. Every time we left home, we did not expect to come back alive," he said.
    There were nine comrades-in-arms in his team. "Each of us tattooed our names on our arms and we made a pact that the ones who were alive should watch the others' graves. At present there are just me and another one in Beijing who are still alive and I am the healthier," he said.
    In the 1980s, some military officials visited the village and suggested a memorial cemetery be built to commemorate those who died during the anti-Japanese war and Ou agreed immediately.
    Hard work
    Ou moved from a busy city to the small village and left all his children and grandchildren behind to fulfill the task.
    He walked every day between villages and cities and collected information about the 2,400 martyrs such as their names, dates of birth and death and where they were buried. "It was a huge and exhausting job as I had to collect all their graves and move them here," he said.
    "He's a truly extraordinary person. It took him years to find where we buried my father Qiao Jinkun and because I was very busy and poor at the time, he came to visit us at least four times and took care of all the procedures himself," Qiao Jinkun's son Qiao Junqing said.
    In the space of two years, Ou had been to Beijing four times and traveled across six provinces and municipalities to collect information, transfer graves and seek support of all kinds. All the expenses were from his savings.
    As a retired military official, Ou had relatively high income and a comfortable house in the city, but he chose to live in a place without basic living necessities and power. "It was a dingy place and we only had a kerosene burner at home and it was very difficult to have meat to eat. We lived in a big house in the city, but my grandfather refused to come as he had to finish the construction of the cemetery," Ou's grandson Ou Yang, 23, said.
    An ordinary old man
    After 30 years of hard work, the cemetery has now become a beautiful place for people to commemorate the deceased.
    After his wife died three years ago, Ou chose to live alone at the cemetery. He lived in a small room nearby with a bed, a refrigerator, a closet and a black-and-white TV set. His daily meal was just a small bowl of fried egg and rice. "I don't care for big houses and city life. The best thing for me is to guard my old friends and be buried here with them after I die," he said.
    However, Ou also admitted he was a "miser." He has a monthly pension of about 7,000 yuan (US$1,070), which is a lot for a retired man in a small city, but all he can bequeath to his children is an old house. All of his savings have been spent on the cemetery.
    "My children don't understand me because I choose not to live with them like other retirees. I can't leave them much and I refuse to help them with their lives and careers despite the fact that I could use my influence to do so," he said.
    Ou Yang is Ou's biggest admirer. "I've spent years with him and grandmother. He is a very caring person and he taught me the two most valuable things in life — being a real man and living a simple life," Ou said.