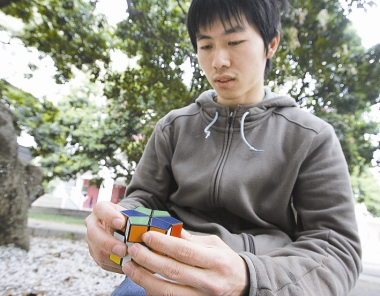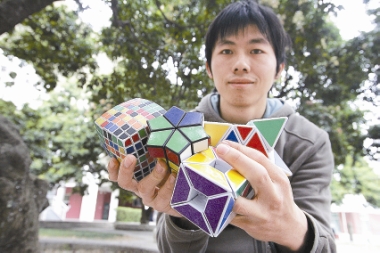 "I want to design my 'Cube' — a new kind of Rubik's Cube that will win over thousands of fans,"
    — Zhang Jie
    a Rubik's Cube fanatic
    Tina Chen
    AFTER one look at a Rubik's Cube, with the flexible movement of his fingers, he turned a disordered bunch of colors into six surfaces, each of one color. This took only 20 seconds for Zhang Jie to do.
    In another 20 seconds, he made a cross appear on each of the six surfaces. With eyes closed, Zhang then turned the cube back.
    Zhang, 25, has been playing with Rubik's Cubes for more than eight years. He has set up a Rubik's Cube Association at Shenzhen University to teach other fans.
    A shy boy's best friend
    Zhang began to be known by fellow students only after a master player was shown speed-solving a Rubik's Cube with eyes closed at CCTV's Lantern Festival Evening Party in 2008.
    The broadcasting by a nationally popular program lead a trend of playing Rubik's cube and Zhang, as a skilled player, became an idol for beginners.
    The shy boy first learnt to use a Rubik's Cube early in 2003 when he was shopping one day.
    The cube and the various figures made on it amused Zhang. He bought a cube for the first time and had a great time studying the changes.
    "There were few people playing the Rubik's Cube around that time," said Zhang. "So I usually go to the library to look for books on how to play and have practiced tens of thousands of times."
    Zhang then found the cube couldn't meet his playing speed as the cube made in China sometimes fell into pieces or stuck at certain stages after overuse.
    He got a precious present from a teacher who used to discuss Olympic Mathematics with Zhang after school hours as Zhang is also fond of mathematics.
    The teacher gave Zhang a cube bought overseas and encouraged him to further study it.
    "The Rubik's Cube my teacher presented to me felt very good. It was made of resilient hard plastic," said Zhang. "And I still have it today."
    Since then, Zhang carries the cube with him everyday and plays it whenever he has time.
    Promoter of Rubik's Cube
    The Rubik's Cube had a huge impact on Zhang. He chose mechanical engineering as his major in Shenzhen University.
    Zhang's Rubik's Cube show is always the most popular at all kinds of parties on campus.
    A number of students have fallen in love with the cube, becoming Zhang's friends in the process.
    "Several of my roommates are also Rubik's Cube fans as the toy entertains people who have a genuine interest in esoteric things," said Zhang.
    He said he had set his own record of solving the cube in 15 seconds.
    To promote the cube among teenagers, Zhang found a part-time job in a toy shop at Nanshan Book City and taught curious customers some playing skills.
    He has also given courses at primary and middle schools to try to introduce it as a healthy and enriching hobby to students.
    "The Rubik's Cube is more than just a toy," said Zhang.
    "It was intended to be a teaching tool when it was invented, as it can develop players' hand-eye coordination as well as their concentration.
    "Moreover, solving the cube will improve player's spacial intelligence. And I benefit a lot from it."
    After graduation in 2009, he helped found a Rubik's Cube Association in Shenzhen University. The association has already attracted more than 100 members and held a lot of events and competitions. Now Zhang has collected more than 30 kinds of Rubik's Cubes, a total of more than 100 models.
    He even takes several cubes to his office, a R&D company in Nanshan District, and attracted a large number of fans among his colleagues.
    A new challenge
    Zhang wanted to design his own "Cube" — a new kind of Rubik's Cube that will win over thousands of fans.
    He is now collecting specially shaped Rubik's Cubes and ones that are unusually difficult to solve. He is studying the relationship between corner parts, central parts and edge parts of various cubes, which will inspire his invention. He often holds discussions on methods of solving the Rubik's Cube with experienced players in Shenzhen.