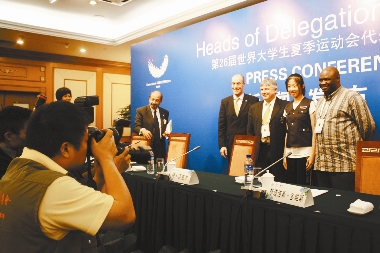 The scene at the meeting of the delegation heads of the 26th Shenzhen Universiade at Wuzhou Guest House on April 16.
    雷雅鑫 南山外国语学校高新部
    On April 16, a meeting of the delegation heads of the 26th Shenzhen Summer Universiade was held at Wuzhou Guest House. Huang Guoqiang, vice head of the executive office of the Universiade organizing committee, and delegations from 52 countries and regions, as well as International University Sports Federation (FISU) officials, attended the meeting.
    After the draw ceremony for team sports came the press conference. Sitting with adult reporters, I calmed myself down and raised questions. Using my experience from practicing interviews daily, I was confident about raising questions in English.
    The first question concerned how to use the venues and facilities effectively after the Games. FISU official Ralethe Malumbete mentioned that the facilities had been built not only for the Universiade but also for university students and citizens. After the Universiade, the venues and facilities will be used for residents' sports activities, leisure and some sports events.
    The second question was about the weather. Many delegates were hugely concerned about the hot and humid weather that might occur in August in Shenzhen. Mr. Huang stated that they will closely follow the changes in weather and a group of professionals will always be ready to take action for the weather in case of any emergencies.
    FISU officials and Mr. Huang answered my questions patiently. I was so excited that I was the only reporter who raised questions in English.
    The 26th Summer Universiade is just around the corner. Let's start here and have the highest hopes for it.