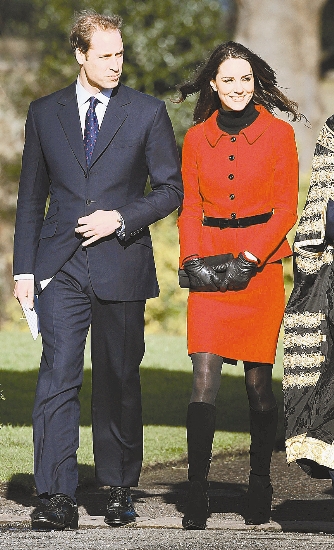 WITHIN touching distance of their wedding, you might expect Prince William and Kate Middleton to be making frantic last-minute arrangements for their big day. But they looked anything but a couple who are about to take their vows in front of 2 billion people as they adopted a distinctly low-key approach to their preparations.
    Just 48 hours before she becomes a royal bride, Middleton was spotted unloading a cardboard box from Tesco from her car at Clarence House.
    The prince, meanwhile, played five-a-side football in Battersea Park, south London, wearing a thrown-together kit of mismatched socks, shorts and T-shirt.
    As growing numbers of people pitched tents outside Westminster Abbey to secure the best positions for Friday's royal wedding ceremony, and 100 broadcasters from around the world set up camp, Middleton drove to Clarence House in her Audi A3, where she unpacked her belongings.
    As she drove away from her parents' home in Berkshire, photographers saw a sheaf of papers on the back seat, which included the passage "With so much love within our hearts," leading to speculation it may be part of the service.
    Despite the risk of injury, the prince had a two-hour kick-about, even arriving on a Ducati motorbike. He joked with his teammates, who bounced the ball off his head as he left the pitch.
    At Westminster Abbey, teams of florists ferried in containers of white, green and cream flowers. Shane Connolly, the artistic director of flowers for the wedding, said: "The theme is that everything is from the estates, that everything is English, that everything is seasonal, and all along Catherine has asked that it's just all neutral color-wise so it is all creams and whites and greens."
    St. James's Palace confirmed that Prince William will spend his final night as a bachelor having a private dinner at Clarence House with the Prince of Wales, the Duchess of Cornwall and Prince Harry. The Prince of Wales sported a badly bloodshot eye when he visited Dumfries House in Ayrshire to open it for the 2011 season. A spokesman said he was "absolutely fine."
    Britain hasn't seen a royal wedding of this size since Prince Charles married Diana in 1981 — there were actually 200 more police on duty for that wedding, which had a longer procession route and a guest list of some 3,500 people, including foreign royals and heads of state.
    Police will be on the look-out for Irish dissident terrorists, Muslim extremists, anti-monarchists and protesters.
    Scotland Yard Police Commander Christine Jones said Wednesday there had been no new terror threat but considerable Internet chatter.
    (SD-Agencies)