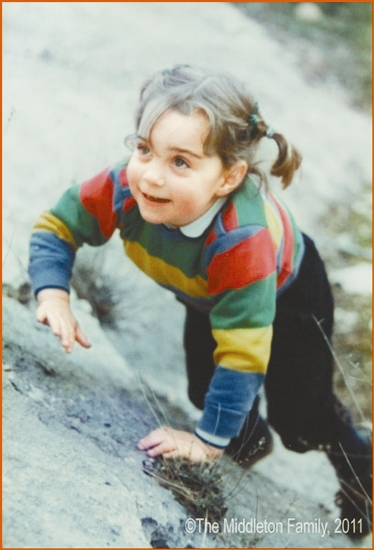 CATHERINE ELIZABETH MIDDLETON was born Jan. 9, 1982 and grew up in Chapel Row at Bucklebury, Berkshire, England.
    She is the eldest of three children born to Carole Elizabeth, a flight attendant, and Michael Francis Middleton, who also worked as a flight attendant prior to becoming a flight dispatcher for British Airways. Middleton's paternal family came from Leeds, West Yorkshire.
    Middleton studied at the University of St. Andrews, where she met Prince William in 2001. They started a romantic relationship that continued until a breakup lasting several months in 2007. However, they rekindled their relationship later that year.
    In November 2006 Middleton accepted a position as an accessory buyer with the clothing chain Jigsaw. In September 2007 it was reported that Middleton was planning to give up her job as an accessory buyer to become a professional photographer.
    Since 2007, Middleton has attended many high-profile royal events. She has been admired for her fashion sense and has been placed on numerous "best dressed" lists.
    The couple became engaged in October 2010 in Kenya, East Africa, during a 10-day trip to the Lewa Wildlife Conservancy to celebrate William's passing his RAF helicopter search and rescue course. On Nov. 16, 2010 the office of the Prince of Wales announced their engagement. (SD-Agencies)