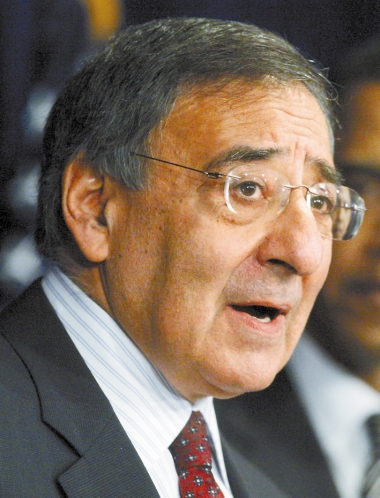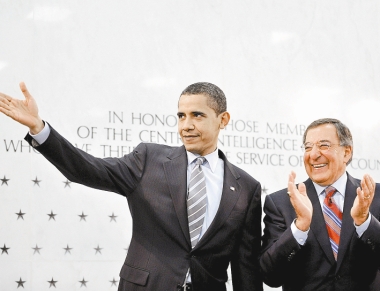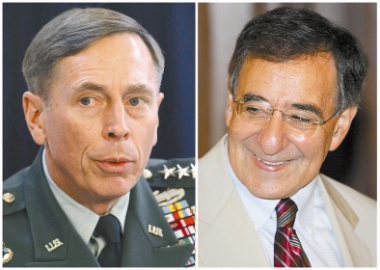 U.S. President Barack Obama's choice of expert budget-cutter Leon Panetta to lead the Defense Department is a clear signal that the White House perceives the nation's deficit crisis, not the wars in Iraq and Afghanistan, a

    U.S. President Barack Obama will nominate CIA Director Leon Panetta as defense secretary, resetting his national security team ahead of the 2012 presidential campaign and a battle over the Pentagon budget.

    Obama will also nominate Army General David Petraeus, the head of U.S. and NATO forces in Afghanistan, to replace Panetta as CIA director, and veteran diplomat Ryan Crocker as U.S. ambassador to Afghanistan, U.S. officials said.

    The long-anticipated changes, which must be confirmed by the Senate, would place a long-standing Democratic Party figure at the helm of the Pentagon as Obama presses forward with politically delicate policies in Afghanistan and Libya.

    

    At 72, Panetta will be the oldest man nominated as defense secretary. He has more experience in walnut farming than in military matters, though he did briefly serve in the Army — almost a half-century ago.

    But what Panetta would bring with him to the Pentagon are two critical skill sets: how to play power politics in Washington, and how to manage enormous sums of taxpayer money.

    "What I bring is a broad range of experiences to this job," he said. "I know Washington. I think I know how it works. I think I also know why it fails to work."

    Panetta made that statement in February 2009, after Obama picked him for a different job in which he had very little experience: as director of the CIA. At first, senators and spies alike expressed skepticism that an outsider with scant background in intelligence could survive the shadowy bureaucracy.

    During his stint at Langley, however, Panetta has largely swayed his critics by restoring calm to an agency still recovering from allegations that it tortured terror suspects after the Sept. 11, 2001 attacks. At his confirmation hearing in February 2009, he caused a stir when he testified that he believed the George W. Bush administration had transferred prisoners to other countries for the purpose of torture, although he backpedaled slightly after he was criticized by Republicans.

    Panetta deftly outmaneuvered rivals in bureaucratic battles, fending off efforts by then-Director of National Intelligence Dennis C. Blair to assume greater control over overseas posts. More important, the man who once ran the White House for Bill Clinton forged a close relationship with his new boss, Obama.

    "I would expect that pattern to follow," said Lee H. Hamilton, a former Democratic congressman from Indiana who has served on an external advisory board for Panetta at the CIA. "He will become a champion of the Department of Defense. But his loyalties will not be exclusive to the department. They will also be to the president."

    Hamilton said Panetta would prove a quick study at the Pentagon but did not minimize the immediate challenges facing him: the long-standing wars in Iraq and Afghanistan and the international military intervention in Libya.

    "There's no on-the-job training to become secretary of the Department of Defense," Hamilton said. "By definition, it's an impossible job. You can only make an educated guess, I suppose, on how a person will perform based on their track record."

    After a decade of rapid growth in military spending, the Pentagon is confronting lean times as the government grapples with record deficits. Defense Secretary Robert M. Gates has cut numerous weapons programs in a drive to make the military more efficient, but Panetta could end up being the first defense secretary to shrink the military's annual budget since the end of the Cold War.

    "What Panetta will be doing is laying the groundwork," said Lawrence J. Korb, a senior fellow at the Center for American Progress who was a defense official in the Reagan administration. "He will have credibility to be able to say, 'We can cut this without jeopardizing our security.'"

    

    Panetta, who will turn 73 in June, served in the Army as an intelligence officer from 1964 to 1966 but did not deploy to Vietnam. Originally a Republican, he worked as a civil rights official in the Nixon administration but later switched parties and served 16 years in Congress as a representative from California.

    He specialized in money matters on Capitol Hill, chairing the House Budget Committee for two terms and playing a key role in 1990 deficit-reduction talks that led President George H.W. Bush to renege on his "read my lips: no new taxes" pledge.

    In 1993, Panetta resigned from Congress to direct the Clinton administration's Office of Management and Budget. He worked as Clinton's chief of staff for three years before leaving government in 1997 to found a public policy institute in his home town of Monterey, California. He still owns a walnut farm near there that his immigrant parents started after World War II.

    In 2006, he served on the Iraq Study Group, a bipartisan panel of foreign-policy graybeards that called for a new war strategy and the withdrawal of U.S. combat troops from Iraq by 2008. The recommendations were largely ignored by the younger Bush, who instead sent more than 20,000 additional troops to that country.

    In some ways, Panetta would bring to the Pentagon a reputation similar to that of the man he would be replacing. Both are considered pragmatic, non-ideological problem solvers who know their way around the White House.

    Like Panetta, Gates is a former CIA director. He also served on the Iraq Study Group, until he was tapped by George W. Bush in late 2006 to run the Defense Department. Gates has kept the job under Obama, but he made clear months ago that he intended to retire this year. White House officials said he would step down June 30.

    

    Panetta is well-versed in one important high-tech military program: the use of armed drones. The CIA has become increasingly reliant on Predator and Reaper drones to hunt down terrorism suspects in Pakistan. The Pentagon has embraced the technology to an even greater degree and is flying armed drones in Afghanistan, Iraq, Libya and — as recently as November — Yemen.

    In his new job, Panetta would have to rapidly familiarize himself with the biggest bureaucracy in the U.S. Government. In addition to 1.4 million troops on active duty, the Defense Department employs about 700,000 civilians, as well as armies of private contractors. Its annual budget exceeds US$700 billion, including the cost of the wars in Iraq and Afghanistan.

    (SD-Agencies)

s its toughest challenge.