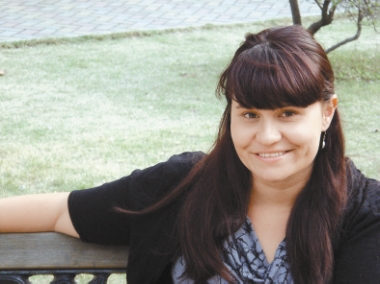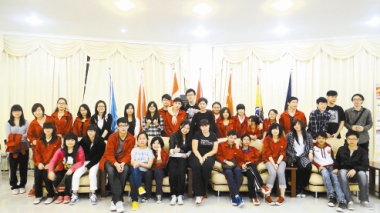 Wu Guangqiang
    AMY RANKIN, 29, is from Canada, a country that is distant, but familiar to many Chinese. Older Chinese learnt about this country due to the heroic story of Dr. Norman Bethune, who came to China to help fight against Japanese invaders in the 1940s. Working selflessly, he saved many soldiers' lives and lost his life in China. Today, Canada is one of the most popular countries for Chinese emigrants to study, work, and live in.
    Rankin's mission here is not as risky or lofty as Dr. Bethune's, but it is just as meaningful. She works as the director of Personal Development at Shenzhen (Nanshan) Concord College of Sino-Canada (SCCSC). "My job is to nurture public awareness of mental health care and foster my students' interest in psychology and social work," she outlined her mission.
    Young as she is, Rankin's life experiences are fascinating.
    Unlike most Chinese youngsters, Rankin did lots of different jobs in high school, college and grad school, including cashier, waitress, library assistant, researcher, salesperson and even basketball referee. "I had to make ends meet," she smiled bashfully.
    To enrich her knowledge of different cultures, she has traveled to many places and worked and lived in three foreign countries: Australia, South Korea and China. She stayed in South Korea for three years, during which time she worked as a kindergarten teacher, volunteered weekly at an orphanage and was the volunteer coordinator for V-Day — an international organization that fights for women's rights.
    It was in university that she started working in the mental health field as a phone counselor for victims of sexual assault, along with working as a mentor for underprivileged youth at an after-school program. After graduation and a stint as a secretary, she worked in a shelter for victims of domestic abuse. "That is where I truly fell in love with social work," she recalled.
    After many years of hard work, she completed her studies and graduated with an undergraduate degree in psychology from Concordia University in Montreal, Quebec, and a master's degree in social work from Wilfrid Laurier University (WLU).
    While studying for her master's degree, she did two internships: one at a prison for young offenders as the in-house therapist and the other here at SCCSC in Shenzhen. In 2008, SCCSC formed a partnership with WLU's social work department to have interns do their international placements at their schools. She was the first intern to come to SCCSC in 2009.
    During her internship, there were confusing moments for Rankin as she found the work she was being asked to do did not match her training. "The concept of a social worker, especially one with a master's degree, was very foreign and widely misunderstood," she said. But rather than give up, she chose to do something new and tried to make what she saw as positive changes. Luckily she got full support from the executive director of the school, Joyce Pang, and the Canadian principal Heather Wallace, who were keen to help create meaningful programming.
    Her groundbreaking work took a while to take off. A student in a major domestic crisis was her first case to handle. The treatment was a success, which slowly opened the door to her being given more cases. She was also invited to give seminars to Nanshan area counselors and students from Shenzhen University.
    Rankin's successful internship led to SCCSC's decision to hire her after her graduation in April 2010. It was time for her to truly make her dreams about the school come true!
    She is now working tirelessly, giving students individual counseling and lectures elaborating on all issues about mental health and social work, creating different workshops for each grade and extending her teaching to dormitories and ethics teachers.
    Thanks to Wallace, who let Rankin take time out from Canadian teachers' social studies classes to teach basic knowledge of health care, Rankin soon aroused students' interest, which later developed into enthusiasm for the new subject. She, along with the new intern she supervised, helped pupils set up a mental health club and created a Mental Health Awareness campaign where the students were asked to hand in a poster on any mental health issue they felt was important and the top posters were awarded and displayed in the school. "Last year we got 20 entries and this year over 100. This is a good indication of steady progress," she grinned.
    Rankin is excited about how positively her work has influenced the students.
    "I have received e-mails, text messages and letters from students I have treated or helped, saying that I have changed their lives. But I think any guidance merely helped them change their own lives," she said.
    Jasper and Flora are both Senior 1 students and active participants in the mental health club. They said they did not realize the importance of knowing about mental health until they came in touch with the field. "Rankin has created so many interesting functions such as barbecues, concerts, games and quizzes that we never find it boring to learn so many new things," said the boy and the girl.
    asper and Flora have benefited greatly from the program. They are more confident, more socially capable, more independent and more willing to help others. All these, in turn, help them do better academically.
    Since coming to China, Rankin has experienced more tough challenges in carrying out mental health care work than she did in other countries. One of the major problems is the popular stigma attached to mental health. Consequently, few people with mental problems are willing to seek professional aid. Modern life, characterized by its fast pace, keen competition and complicated interpersonal relations, brings more stress, anxiety and even misery to people from all walks of life. Among the victims, adolescents are more fragile, and therefore need more help. "Most importantly I think I am making everyone aware, especially the Chinese staff, that these problems are real, not to be stigmatized, and not to be swept under the rug," she stressed.
    In most local schools, where overwhelming emphasis is placed on academic performance, students' mental health is neglected. Despite the existence of mental health counseling offices in many schools, they are virtually dormant. Much more than setting up a counseling office needs to be done. According to Rankin, professional counselors are prerequisites to success. There is a vital shortage of them in China, an issue Rankin is beginning to address by training some of the school's Chinese teachers as counselors. Rankin is also training some student counselors, with the hope that they will be a seed for the cause's future blossoming.
    "To see their success and their confident faces makes me feel like everything I have been through in my life has been worth it," Rankin beamed.