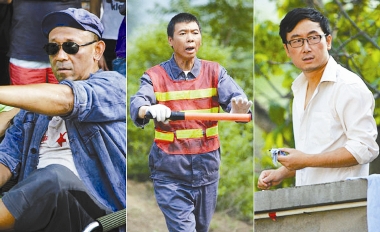 THREE famous Chinese directors take up cameo roles in Gu Changwei's AIDS-themed drama, "Love for Life."
    "Let the Bullets Fly" director Jiang Wen plays a train driver; "Aftershock" director Feng Xiaogang portrays a rural traffic control cop, while "City of Life and Death" director Lu Chuan takes on the role of a villager.
    The film also features a strong lineup of supporting actors, including TV actor and anti-AIDS activist Pu Cunxin and Gu's actress wife Jiang Wenli.
    "Love for Life" is Gu's third film as director after a lengthy career as a cinematographer for some of China's top directors. Gu, 54, began his cinematic career in the 1982 class of the Beijing Film Academy. Trained as a cinematographer, Gu was assigned to the Xi'an Film Studio after graduation where he served as a primary collaborator with classmates Chen Kaige and Zhang Yimou on their early films, notably "King of the Children" (for Chen) and "Red Sorghum" (for Zhang), both in 1987.
    Since then, Gu has worked with both men on multiple occasions, including on Chen's magnum opus, 1993's "Farewell My Concubine." Like fellow cinematographer Zhao Fei, Gu has had the opportunity to work with major American directors as well, notably with Robert Altman, on his film "The Gingerbread Man" (1997).
    Beginning in 2005, Gu branched out into film direction with his debut "Peacock" and sophomore feature, "And the Spring Comes" in 2007.(SD-Agencies)