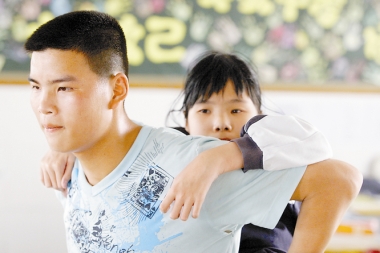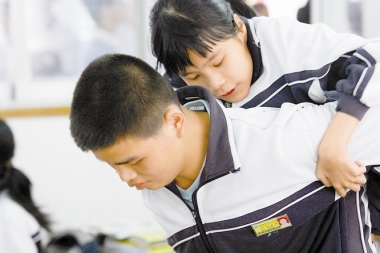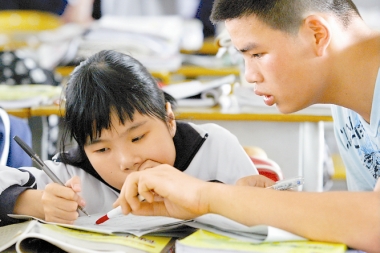 "I am very impressed by her strength and faith and want to be her legs at school. If possible, I can be her legs in high school and university in the future."
    — Luo Xinxiong (middle school student)
    Wang Yuanyuan
    IT is popularly believed that children born in the 1990s are spoiled and selfish, but Luo Xinxiong, a 17-year-old student at Pingshan Middle School in Pingshan New Zone, has defied the stereotype.
    Although Luo is a bashful boy whose face turns red when talking to girls, everybody at the school knows him because of his kindness in carrying a disabled classmate around the school every day for nearly three years.
    Zeng Cuiru, a classmate of Luo, is the girl the students are talking about. Suffering from congenital bone disease, the 16-year-old girl is only about 1.5 meters tall and has been unable to stand or walk since she was born.
    Over the past three years, Luo has voluntarily carried Zeng on his back between classrooms every day without complaining.
    "They are not related, but he always treats her like his little sister, carrying her around the school and helping her with other aspects of life. It is very impressive and inspiring," Zhang Ling, one of their classmates, said.
    "I am very impressed by her strength and faith and want to be her legs at school. If possible, I can be her legs in high school and university in the future," Luo said.
    When Luo first started Junior 1, he found his classmate Zeng was quite different from others as she was carried to school every day by her mother and would never leave her seat the whole day.
    "The first thing I thought was that I had to help her," Luo said.
    When his classmates went for computer class for the first time, Luo went up to Zeng's seat, offering help to the shy and small girl. "Come! Let me carry you to the computer room," he said.
    Zeng refused, but Luo did not give up, insisting on helping her as she might be left behind as a result of her disability.
    "The first time when I carried her, I was very careful as I was afraid to fall to the ground. Although the computer room was only about 100 meters away, we had to walk for nearly 10 minutes," he said.
    Since then, Luo has carried Zeng on his back around the school, from computer room, painting room and labs to classrooms.
    Although Zeng weighs only about 30 kilograms, it is very difficult for Luo to carry her.
    "Her arms are also lame like her legs because of her disease, so she cannot hold my neck tight. It is very difficult for me to carry her well, so we have to be very careful during the whole process," Luo said.
    Despite all of these things, Luo has never thought about giving up and always carried her up and down stairs.
    "We've never heard him say he was tired. His persistence is amazing," Zhang said.
    Zhang remembers a firefighting drill at school particularly clearly. "He carried her and ran from the sixth floor to the sports field at very high speed and could not even breathe afterwards. I am so proud that I can know someone as warm-hearted as him," she said.
    However, things haven't always gone so well. In the beginning, Luo was the subject of persistent gossip from students from other classes.
    "It was weird to carry a girl around the school all the time and many students did not know who we were and what we were doing. They always looked at us in a weird way, thinking there was some uncommon relationship between us," Luo said.
    Under such pressure, Luo even wanted to give up, but his mother encouraged him. "She said there was nothing to be afraid of when helping others. My classmates and teachers also encouraged me and I thought if I did not help her, she wouldn't be able to finish her studies, so I decided to keep doing it," Luo said.
    Now, the whole school knows Luo's story and many other boys are willing to replace Luo when he is absent. "I'm so happy that the thing I do can be understood by others and inspire more people to give a helping hand," he said.
    In class, both Luo and Zeng are very good students and always score highly in examinations.
    "Most of the time when we are on our way to other classrooms, we talk about school work," Luo said.
    "Zeng's English is very good, so I always ask her to help me with my English. With her help, my English has improved a lot," he said.
    "I am very grateful for what Luo has done for me, although I seldom express such feelings. Because of him, I have become a much stronger person and hope I can also help others. I can't do many things, so no matter when a classmate comes to ask me about study, I will help them as best I can," she said.
    Back home, Luo is also well-behaved. Luo's parents sell vegetables at a local farm produce market and are always busy.
    "He always gets up at 5:30 a.m. and goes to school after making breakfast. Every night, he cooks dinner for us and then starts to study," his mother, who refuses to be identified, said.
    Luo's story has become an inspiration to all his classmates. "It sets a very good example for students, letting them know that if you persist at something, anything is possible no matter how hard it is," said their teacher Chen Yiqun.