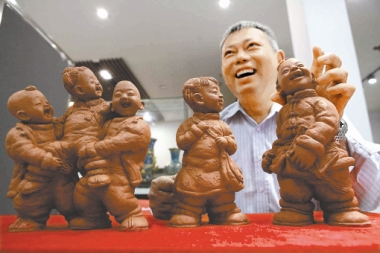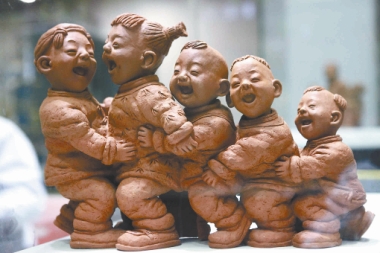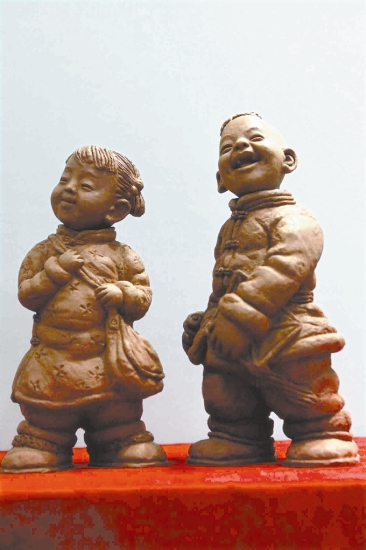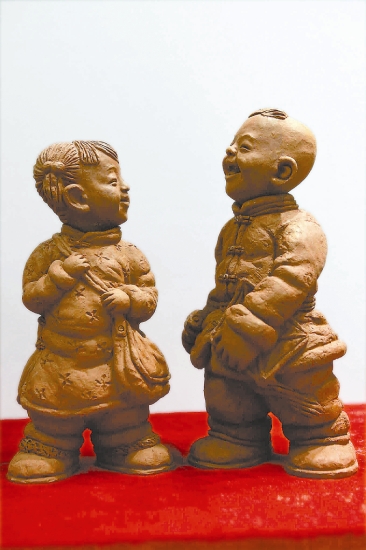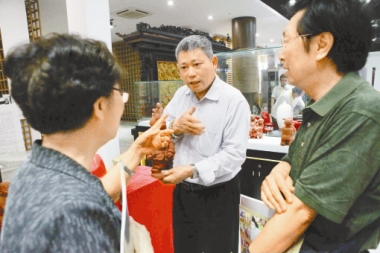 Tina Chen
    TO express his passion for children, an artist has created thousands of works depicting them playing games, going to school, playing tricks and even fighting using clay from the Yellow River.
    The works of clay are molded with extreme vivacity and realism. These scenes of traditional Chinese life were sold for up to 1 million yuan (US$154,000) amongst arts collectors, making the clay more expensive than gold.
    The artist is Zhao Enmin, 49, a grey-haired man who is also known as Clay Figure Zhao for his well-known clay molding.
    Zhao's clay figures are amongst the most famous and recognizable of their kind in China. His art has been hugely successful and is considered a symbol of traditional Chinese arts and crafts.
    He is also the founder and sole creator of the clay art of hallowed molding.
    Hallowed molding
    Unlike other well-known clay molding arts in China such as Clay Figure Zhang's colored molding of Tianjin or the Huishan clay molding of Wuxi, Jiangsu Province, his clay figures are hallow inside and joined together by the limbs.
    The head can even rotate by 360 degrees. And Zhao's clay figures are not colored, presenting the original color of a rare kind of red clay.
    The craft of hallowed molding has been lost since the Han Dynasty (206 B.C.-A.D. 220). Zhao has recreated it based solely on ancient records.
    "The Terra-cotta Warriors and Horses found near the Mausoleum of Qin Shihuang (the first emperor of the Qin Dynasty) also used hallowed molding," said Zhao.
    "The head, torso, waist, arms, legs and feet of the warriors were molded separately hallow inside and then joined together.
    "I believed that crafts recorded in ancient books could be replicated," said Zhao.
    Zhao started to study the crafts in 2004 by himself but failed thousands of times until 2005 when he realized that the problem might be with the clay itself.
    "I needed the kind of clay that was both very sticky and easy to shape," he said.
    Zhao started to search for his dream clay in 2006.
    He went to almost every corner of the Yellow River within 100 km of his home in Zhengzhou City, capital of Henan Province.
    Zhao said he got a message in a dream one night.
    "I dreamed about a clay molding of a very cute baby playing on a fish, the clay was all red.
    "I then set about searching for red clay," said Zhao. "As you know, previously the clay arts had been using black, white or yellow clay."
    Zhao found the red clay with the guidance of a worker he met in a mountain.
    The worker told him: "We have a very sticky kind of red clay in my hometown. Your shoes will be torn if you walk on it after rain. And we also used it to stick woks where the cracks were."
    Zhao was ecstatic to find the clay, which will be straightforward if you make it a spaghetti-like strip and won't crack if you bend the clay strip into a ring.
    "It has perfect viscosity and moldability," said Zhao.
    Zhao finally succeeded in recreating the hallowed clay molding at the end of 2007.
    Ni Baocheng, former deputy chairman of the Chinese Folk Artists Association, said Zhao's arts was an invaluable part of the nation's heritage.
    Evocative arts
    Zhao said that the most joyful moment of his creative life was when his clay children at the 2010 Shanghai Expo caught the attention of a 2-year-old girl.
    The girl passed his exhibition booth with her mother and insisted upon staying there.
    She watched the clay children for a long time, ignoring her mother trying to drag her away.
    To everyone's surprise, the girl stood tiptoe and gave a kiss to a clay child.
    "I didn't expect such a little child to be able to appreciate my work and show affection in such a way as she couldn't speak many words," said Zhao.
    "It was the greatest reward to my years of hard work.
    "People of all ages, nationalities, languages and religions love children," said Zhao. "And that's why I choose them as the subject of my work.
    "I love to present children's lives, because I want to tell people that children should be carefree instead of being miniature adults."
    Zhao's clay figures were awarded the Seal of Excellence for Handicrafts by UNESCO in 2008.
    In 2009, Zhao's work "Someday in the Past" won the title of Chinese Folk Arts Gem by the State Administration of Cultural Heritage.
    His works have also been awarded the silver and gold medals at the Flower Cup in 2008, the highest prize in the Chinese arts and crafts industry.
    A total of 16 sets of Zhao's works were photographed and used for railway ticket designs by the Zhengzhou Railway Administration and the sets of tickets were widely collected.
    Teacher of the disabled
    Born in an ordinary worker's family in Zhengzhou without any art education background or professional training, Zhao made his own way.
    He was talented in clay molding and able to make vivid figures such as birds, airplanes, cats and dogs when he was only 7.
    He studied painting and anatomy when he served in the Army between 1979 and 1983.
    He also studied mechanics, tectonics when he tried to create the hallowed clay molding.
    He founded his studio in 1996.
    He now teaches about all his findings to disabled people at the Zhengzhou Disabled Association.
    "My friends said this would dampen my creativity," said Zhao. "But I wanted to help them as I also experienced days when a helping hand was needed."
    He has taught clay molding crafts to more than 250 disabled since 2006.
    And about 30 of them make a living from crafts now and earn about 800 yuan per month. Some even earn up to 3,000 yuan per month, Zhao said.