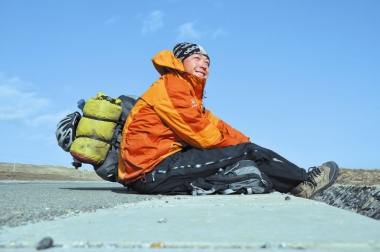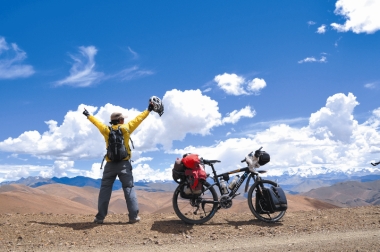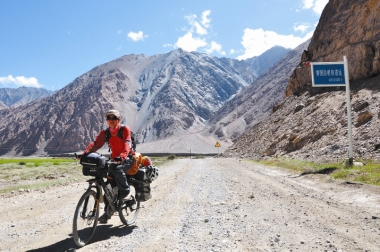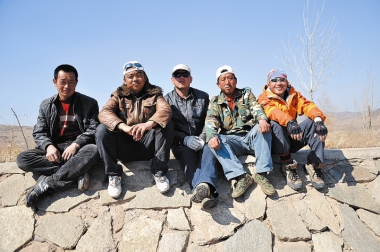 Li Hao
    ALWAYS wearing a smile, he is easy-going and talkative. He is not very tall but muscular with a dark complexion. And he is persistent.
    He is Zhou Ziqian, a 29-year-old cyclist who rode 29,230 kilometers on a 400-day journey around China to promote the Universiade.
    He traveled to the four farthest places in four directions in the country, including Sanya in Hainan in the south, Kashgar in Xinjiang in the west, Heilongjiang's Fuyuan in the east and Heilongjiang's Mohe in the north.
    "I believed change could happen to my life on the way," Zhou said.
    First cycling encounter
    Born in Southwest China's Chongqing Municipality and growing up in Shenzhen, Zhou was a sports enthusiast at school.
    "I was obsessed with soccer and spent a lot of time playing. Sometimes, I even played truant to play soccer," said Zhou, who graduated from the Art and Design School at Shenzhen University.
    After graduating in 2006, Zhou was employed by a local advertising company and sent to work in Shanghai.
    During his one-year stay in Shanghai, Zhou became involved in outdoor activities to pass his spare time in a strange city.
    "I went hiking and mountaineering organized by people on the Internet," he said.
    In a long-distance hike in 2007, Zhou and his friends spent six days reaching the peak of Mount Gongga, the highest mountain in Sichuan Province.
    "It was amazing to have a bird's-eye view of snow-covered mountain at an altitude of 4,500 meters," he said.
    "When I cheered for the beautiful scenery, I saw a man and a woman cycling to the peak of the mountain. At that moment, I was surprised and admired them," said Zhou.
    He then decided to try cycling.
    New direction
    Returning to Shenzhen from Shanghai in 2007, Zhou bought himself a bicycle costing about 1,000 yuan (US$154) on his birthday.
    After that, he rode about 5 kilometers to his office each day and gradually got to know other cycling enthusiasts on the Internet and competed in a few amateur cycling competitions.
    "During that period, my attitude to life changed because of some books I read. I read 'Into the Wild' written by Jon Krakauer, an American writer and mountaineer who wrote about the outdoors and mountain climbing. I also read stories about Che Guevara, who traveled throughout Latin America and was radically transformed by the endemic poverty and alienation he witnessed," he said.
    "I realized that all the characters in these books made changes to their lives on their journeys," he said.
    Zhou decided to make his maiden cycling tour to Nepal and quit his job at the advertising company in 2008.
    "I wrote in my letter of resignation: 'I want to go cycling so I resign,' which really surprised my boss."
    Although Zhou's employer offered him three months' leave for his journey, Zhou insisted on quitting.
    "I was determined to make changes in my life, because I was bored with routine work," he said.
    Journey to Nepal
    In the wake of the Beijing Olympics in 2008, Zhou began his tour to Nepal with another cycling enthusiast he met on the Internet.
    On the way, they met a six-member cycling team, who traveled with them for some distance.
    "I was excited about my first cycling tour and was looking forward to what I would see on the way," Zhou said.
    Arriving in Kangding in western Sichuan's Ganzi Tibetan Autonomous Prefecture, Zhou's backpack — containing his camera and purse — was stolen.
    Fortunately, Zhou still had his passport and he borrowed some money from his fellow cyclists to continue the journey.
    In Lhasa, Zhou's fellow cyclists left and he continued on his own.
    "I did not feel lonely when I was trveling alone. On the contrary, it was interesting because it was easier for me to become involved in local life along the way," Zhou said.
    An extrovert, Zhou tried to communicate with everyone he met along the way, sharing their stories, taking pictures and uploading them to his blog.
    After three months covering 3,586 kilometers, Zhou finally reached Nepal with his savings spent.
    Returning to Shenzhen, he competed in many cycling competitions and won prizes.
    In 2009, he joined a 5,500-kilometer nationwide cycling tour to promote the Shenzhen Universiade. The same year, he cycled around the Peloponnesus in Greece and was invited to attend the closing ceremony of the 25th Universiade in Belgrade.
    Benefits of cycling
    It was hard for Zhou to speak of the difficulties he encountered on his journeys. Instead, it was easier to speak of what he gained.
    "Each aspect of my journey is unforgettable. On one of my tours, I arrived at a village in the Guangxi Zhuang Autonomous Region, where I met an old woman standing at the roadside.
    "I saw her mouth moving and thought she was saying something to me. I stopped and said hello."
    Zhou later learned that the old woman was talking to herself because all the young people in her village had left to work in cities and she had few people to talk to.
    "She was moved by my offer to talk and reminded me to be careful on the tour," said Zhou, who was also impressed by the old woman.
    "The experience gave me a better understanding of the importance and necessity of paying more attention to old people, which never occurred to me before," Zhou said.
    "Each journey gave me a different insight and enriched my life. Cycling also makes me realize how great my potential is," he said. Zhou took only two meals a day on his tours and stayed in cheap hostels.
    Next stop, Taiwan
    On the 400-day tour, Zhou cycled through 18 provinces, three municipalities and two administrative regions along the country's borders. He also reached the base camp on Mountain Qomolangma.
    He cycled an average of 100 kilometers a day and at most, 173 kilometers in Inner Mongolia.
    "I took pictures of 2,011 smiling people holding a UU, the Universiade mascot. I met people of 28 ethnic minorities, and invited them to Shenzhen for the Universiade," he said.
    "It is my dream to cycle around the country,"said Zhou.
    Zhou plans to cycle around Taiwan next month.
    "I plan to visit universities in Taiwan and share my cycling experience with students there," he said.
    "I will never give up cycling even when I take up a job again. I will spare no effort to strike a balance between reality and my dream," he said.