SHANG Garden at the Futian Shangri-La Shenzhen has launched a menu with 50 new Huaiyang and Cantonese dishes. Chefs de Cuisine Anthony Dong and Leo Feng focus on seasonal ingredients prepared in traditional methods to accentuate their natural flavors and nutrition.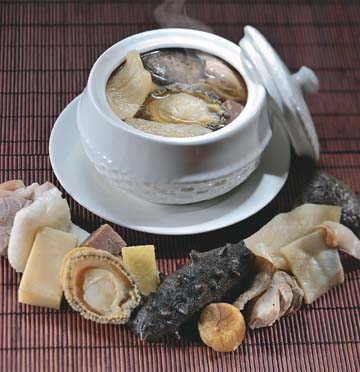 Highlights of the new menu include signature dishes such as double-boiled sea cucumber with millet rice in chicken soup and marinated chicken and sliced abalone with wasabi. The double-boiled sea cucumber with millet rice in chicken soup is made with sea cucumber and a superior chicken stock, duck, ham, scallop, coix seed, barley and millet boiled for 10 hours.
Other new additions to the menu are poached garoupa fillet in sour broth (fresh slices of garoupa with enoki mushrooms and finely sliced asparagus bamboo, simmered in a tomato-based broth) and Shang Garden crispy chicken (a juicy whole chicken with light crispy skin flavored with garlic, made from chef Feng's secret recipe). Chilled sago cream with mango and grapefruit made from fresh fruit are available for dessert.
"My philosophy is to cook from the heart. This new menu is designed to suit appetites during the summer, so we have introduced dishes that are delicate in taste and in appearance," said chef Dong.
Favorites from the original menu are still available. Some popular dishes carried over include curried prawns with multicolored bun, steamed egg white with crab roe, braised lion head meatball with minced pork, crab roe and crab meat and shredded beancurd soup braised with shrimp, egg and vegetable.
Chef Dong recommends a nine-course menu for first-time guests at Shang Garden. This includes chicken marinated in Huadiao rice wine, bean dough with black fungus and peanuts, double-boiled sea cucumber with millet rice, steamed egg white with crab roe, rock salt baked cod fillet, sliced pork belly layered with preserved vegetables, Shang Garden crispy chicken, and hand-stretched noodles in fish broth. To end the meal, guests can top off with chilled sago cream with mango and grapefruit and fresh fruit.
Shang Garden offers diners the fresh flavors of Cantonese cuisine and the delicate flavors of Huaiyang cuisine in a contemporary bistro-style setting. Diners can dine in the relaxed ambience of the main dining room or entertain in one of the six private rooms. A wide selection of Huaiyang appetizers, Cantonese roast meats, dim sum, double-boiled soups and live seafood prepared in various styles are available for lunch and dinner. There are also innovative desserts, signature drinks and a selection of premium Chinese teas.
Tel: 2151-3835
Add: 4088 Yitian Road, Futian District
Metro: Gou Wu Gong Yuan Station (Coco Park Station 购物公园站), Exit D
(Maggie Tang)