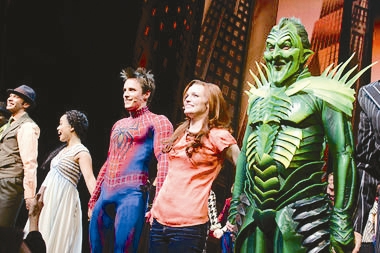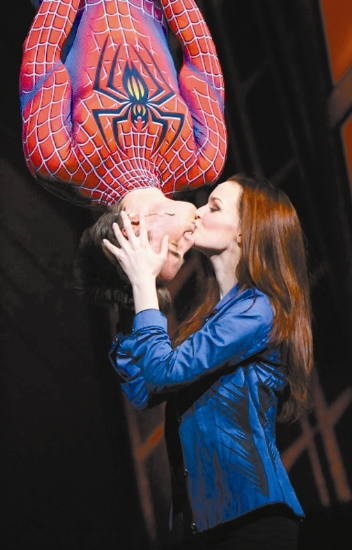 What might be next for the "Spider-Man" musical?
    The reviews are in. So what's next for "Spider-Man: Turn Off the Dark"?
    Producers of the once trouble-plagued musical made good on their promise to steady the US$70-plus million ship, opening the reboot on time and happily watching the once-feuding creative team publicly reconcile.
    Many didn't believe this day would come, certainly not after the multiple injuries to cast-members, the six delays in opening night and the audience's general befuddlement at the plot this winter.
    A shake-up — most notably in the firing of director Julie Taymor — came after reviews exasperated in February were, for the most part, vicious pans. Producers brought in a new team and shut down the show for three weeks to retool.
    The critics returned and their new assessments Tuesday, while not raves, have grudgingly acknowledged an improvement. "A definite upgrade from the flailing behemoth on view in February," said The Washington Post. The Chicago Tribune said the new version is "a remarkable achievement for those who have toiled for coherence."
    The Associated Press said: "It may not be the best thing in theater, but it is far from the worst show in Broadway history," while The New York Times said the show went from "the Hindenburg" to "just a bore."
    What happens next to the show is dependent on a lot of things, but one thing is clear: Without a wave of critical cheers, it now needs positive word-of-mouth to keep the doors open and multiple visits from die-hard fans.
    "I think it's going to be very interesting to watch," said Robyn Goodman, a Tony Award-winning producer of shows such as "Bengal Tiger at the Baghdad Zoo," "American Idiot," "In the Heights" and "Avenue Q."
    "I guess the question is, 'Can they just skip over those reviews and get to the tourist population and continue to do the kind of numbers they're doing?'" she said. "Most musicals that overcome critics — like 'Wicked' — have great word-of-mouth or get a target audience that just adores it."
    Consistently strong weekly revenues are critical for the show to break even and to begin repaying investors. Last week, the show earned US$1.2 million — a little more than 60 percent of its US$1.9 million potential. Though attendance was very high, it still needs more sales and must run for years at near-full capacity before it starts to dig itself out of debt.
    When asked before opening what the next step was, lead producers Michael Cohl and Jeremiah J. Harris demurred. "Sometime late in the summer, hopefully we'll be doing great, and it will actually make sense for us to look at each other and say, 'It's a hit. Now what?'" Cohl said.(SD-Agencies)
    'Sesame Street' mocks 'Spider-Man' musical woes