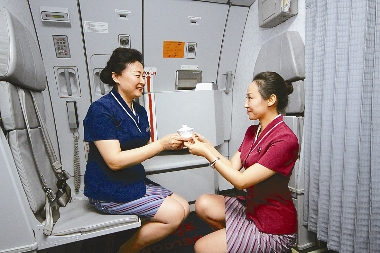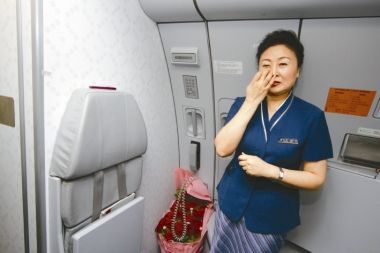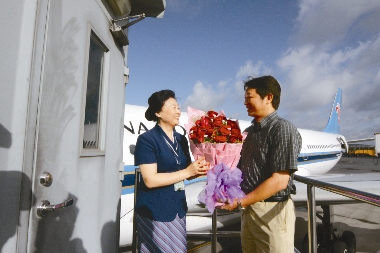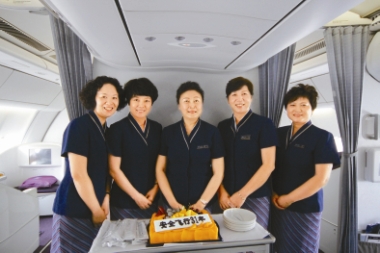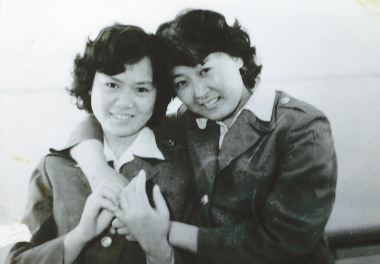 Han Ximin Chen Daiwei
    WITH bouquets of flowers, Wang Qiong, 50, walked down the stairs of her last flight CZ3151/2 June 9 and bid farewell to her 31-year career as a flight attendant.
    Born to a family of intellectuals in Wuhan, Hubei Province, Wang took the National College Entrance Examination (NCEE) in 1978. Her parents, both professors, hoped she would become a college teacher.
    Yet Wang failed the NCEE twice in a row because of the intensity of the competition. At that time, the exam was the only way millions of young Chinese could hope to change their prospects from rural poverty to urban aspiration after the Great Culture Revolution.
    While she was preparing for the NCEE the third time in 1980, she learned that the Wuhan Bureau of the Civil Aviation Administration of China was recruiting flight attendants and Wang applied because she felt she met the requirements.
    "The selection process at that time was brutally strict, but I am lucky to have passed the physical test, theory test and political qualification review," Wang, chief of the flight attendant department of Shenzhen Branch of China Southern Airlines, said.
    "Before me, all the flight attendants came from the military system. I am the first non-military flight attendant," Wang smiled.
    She was just 19 years old when she started her career, and the list of planes she served on in her early years has inspired admiration.
    Wang even flew in the El-14, the Russian-made short distance transport plane which was imported to China in the 50s and used exclusively by late Chinese leaders Mao Zedong and Zhou Enlai. The plane, which can carry 18-24 passengers, can cover a maximum distance of 1,785 kilometers at 400 kilometers per hour. China's military imported 49 such planes and Mao travelled on the plane 23 times between 1957 and 1958.
    "In the 80s, the plane was called 'grandpa' and we had to stop over twice in Zhengzhou and Changsha for a trip from Beijing to Guangzhou, to refuel," said Wang.
    In the early years, there were only one or two flights per month, Wang spent most of her time training and learning.
    One day before each flight, Wang and her colleagues had to push the movable ladder to enter the cabin, clean it and assort the food.
    "The cabin is extremely hot, especially in summer after the plane has been exposed to scorching sun all day."
    "Many people don't believe that in the early days we would have only one day of rest a month and our salary was only 22 yuan," Wang said.
    In 1990, when construction of the Shenzhen airport was near completion, Guangzhou-based China Southern Airlines decided to open routes from Shenzhen by setting up their company here. Wang was among the 20 flight attendants who were chosen from Guangzhou and Wuhan for the Shenzhen operation.
    Wang still remembered the morning of Nov. 25, 1991 when the first flight in Shenzhen's history had its maiden voyage to Beijing.
    "The flight number was CZ3151/2. It was a B757-200 and carried 48 passengers," Wang said.
    Interestingly, Wang's last flight before retirement after 20 years of service in Shenzhen was also the same number CA3151/2, from Beijing to Shenzhen.
    As she did 20 years ago, Wang prepared food for passengers and upon landing safely, her colleagues organized a small party to celebrate her service. As the plane was landing and Wang bid farewell to the passengers through the intercom, she became emotional and shed tears.
    A passenger Chen Xinming, who sat on seat A of Row 31, made a gift with his boarding card and presented it to Wang.
    "You served on airlines for 31 years, and my seat is on row 31. I hope you keep it to commemorate your career," Chen said.
    "I have had mixed feelings about retiring. I have felt joyful also reluctant to say goodbye after so many years working on planes. I also believe it doesn't matter how far and high you fly, as long as you land safely," said Wang.