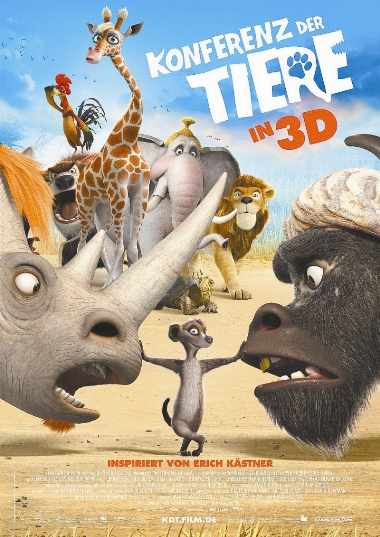 SET in the Okavango Delta in Africa, the German animation directed by Reinhard Klooss and Holger Tappe advocates environmental conservation in simple terms made understandable for children.
    The voice cast of "Animals United" boasts a list of respected English actors that seem too good for a children's cartoon. James Corden, of award-winning British comedy "Gavin and Stacey," voices the protagonist Billy the Meerkat. Together with his best friend, a mild-tempered lion named Socrates, voiced by Stephen Fry, the pair journeys to seek a new water source after the water supply in their habitat has been stemmed.
    Billy has a tough time trying to convince Socrates to return to the Valley of Death, where he lost his brother
    as a cub.
    Along the way, Billy and Socrates meet a motley crew of displaced animals from all over the globe whose homes were destroyed due to melting ice caps, oil spills and manmade fires; basically environmental issues caused by humans. They travel together through the Valley of Death, and eventually come across a large dam.
    Billy and Socrates subsequently discover that their water source was cut off because humans built the dam to maintain a luxury resort in the name of sustainable development. To add to the irony, they were holding an environmental conference at that very resort.
    Having nothing to lose, the new friends readily assist Billy and Socrates in their attempt to free the water from the dam. However, Socrates gets captured, leading Billy and the rest to get help from Angie the Elephant, voiced by Dawn French. She brings all the creatures in the savannah together to hold a conference of their own (think Lion King), and eventually, they unite to save Socrates and bring down the dam.
    The film is based on a German book "Conference of the Animals" written in 1955. Despite its much lower budget, "Animals United" matches up to "Ice Age" and "Madagascar" — a sign that writing, rather than technology, is the determining factor of success.
    The film is forthright in its handling of environmental issues. The human characters are almost all villains while the animals are all good. There are numerous references throughout to man's destruction of animal habitats.
    The screenplay for the film was written by Oliver Huzly and Reinhard Kloos and the soundtrack was composed by David Newman.
    The premiere of the 3D cartoon was held in Beijing earlier this week. Chinese singers He Jie, Wang Zheng and Da Zhang-wei attended the event and shared their views on environmental protection.
    "I believe it's a good opportunitity for children to learn about environmental protection," said He. "The animals in the film are all adorable, and I think the message it sends out is important."
    "Animals United" will be released Friday in China. (SD-Agencies)