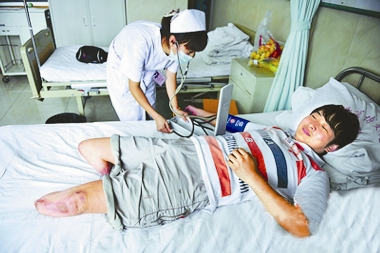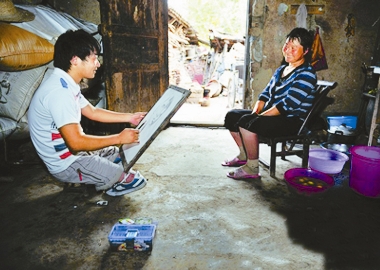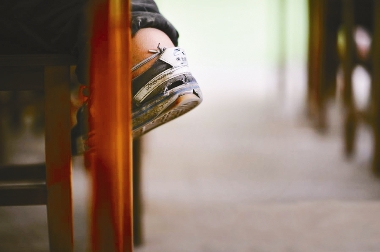 Wang Yuanyuan
    WHEN about 1,000 Senior 3 students walked into Hanyin Middle School in Ankang City, Shaanxi Province for the National College Entrance Examination (NCEE) on June 7, one 1.2-meter-tall student was walking a little differently to everybody else. The legless candidate caught everybody's attention by "walking" in on his knees.
    The student was Li Wei, a 21-year-old candidate for this year's NCEE. Although he failed last year's NCEE, missing out on his university of choice by just 7 points, he felt as confident as anybody.
    As an art student, Li has already passed the painting test organized by the province and ranked 19th in the painting department of Chongqing Normal University.
    "I am very confident and determined this year. When I set off for the examination hall this morning, all the fellow villagers came to wave me off. I won't let them down," he said.
    Difficult life
    Born into a poor family in a rural village, Li lost both of his legs when he was 3 years old in a car accident.
    "My mother told me I was hit by a truck on the road and lost consciousness immediately. I was in hospital for more than a year and gradually recovered, but I lost my legs forever. I don't even remember what it feels like to walk on legs," he said.
    When Li was 7 years old, his friends could all enjoy the start of their education. Although Li insisted upon joining them, the village primary school would not take him on account of his disability.
    "My mother had to report my case to the local education bureau. The town was about 20 kilometers away from our village and she ran between the two places every day for more than a month, hoping they could give me a chance to study. Eventually I was enrolled, but it was two months later than all the other children," he said.
    In the first three years, Li's parents carried him to school every day.
    One day, his parents were too busying working in the fields and had no time to send him to school, so they asked him to stay at home for a day. However, the 10-year-old Li chose to crawl to school because he did not want to lose a day. He crawled more than one hour to get to the school, which was only about 1,000 meters away from his home.
    "I was so surprised when seeing him at the classroom door. There were dust and soil all over his clothes, so I said I would pick him up the next day. But when I was about to set off for his house, he was already at the school," said Li Zhongqing, one of Li's former teachers.
    Li's parents were so happy that their son could "walk" again, but they felt sad when seeing his plants were worn out in just a few days and his knees were bleeding.
    "My father found a car tire and wrapped it around my knees, but it did not work. I thought my mother's shoes might be better, so I stuck what was left of my legs into her shoes and tied them to my body and it worked. Since then, I have started walking to school with on 'feet,'" he said.
    Supportive family
    Li lived with his parents and brother in a mud hut covering an area of only 20 square meters, but poverty did not stop his parents from supporting him.
    Over the past 20 years, they have spent all of their money on Li and his study.
    Several years ago, some relatives suggested Li get a pair of artificial legs so that he could "stand" and "walk" like a normal man.
    "It cost more than 2,000 yuan (US$309) for one pair and they got them for me immediately without hesitation. I was so moved," Li said.
    Although Li did not like the artificial legs and gave up using them after a month because they hurt him so badly that he could not move, he still wears them sometimes at home.
    "Every time I wore them, my mother was very happy because I was much taller than her. I like making her happy," he said.
    Later, Li started to learn painting. Before the NCEE this year and last year, he received professional training in Xi'an. "Each course was about three months and cost more than 4,000 yuan, which is nearly all their earnings for one year. But they thought it all worth it because they wanted me to go to college," he said.
    "For us, our biggest dream is for Li to walk out of the village and live on his own. To achieve this, we don't care how much we pay. It does not matter if we borrow money or sell our blood for him," said Li's father, who refused to be identified.
    A dream of painting
    When Li was in Senior 1, the school's painting class was selecting students with painting talent.
    "Li came to me, saying he wanted to get in because he liked painting. I noticed him when he was at junior high. He had some talent, but was not outstanding, but I said yes immediately to encourage him," said Zhang Fan, painting teacher at Zhang's high school.
    "Zhang told me to study hard because even if I can't go to university, I can still make life more enjoyable with my painting skills, so I decided to study painting diligently," Li said.
    Since then, Li has been learning painting with Zhang. They have painted nearly every corner of the school and Zhang even borrowed tools from his friends in the city just for Li because the small rural high school has limited resources.
    Li failed last year's NCEE, but he decided to take it again this year. "Learning painting might be an impractical ambition for a poor student like me, but I would like to work hard at it," he said.
    With his determination, he achieved a good score in the painting test for the NCEE.
    Li plans to find a job after graduation and buy good artificial legs so that he can live like a normal man.
    "I know my ambitions are more than just a dream because I live my every minute working hard at realizing them," he said.
    "Learning painting might be an impractical ambition for a poor student like me, but I would like to work hard at it."
— Li Wei