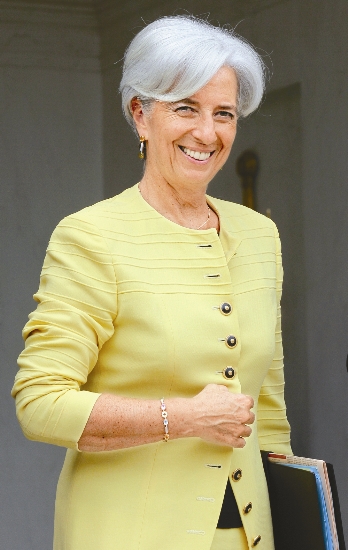 French Finance Minister Christine Lagarde has succeeded Dominique Strauss-Kahn as managing director of the International Monetary Fund (IMF), following his resignation in May to defend himself against charges of sexual assault against a New York hotel maid.
    POISED, chic and a fluent English speaker, Christine Lagarde is second only to President Nicolas Sarkozy as France's most recognizable politician on the world stage.
    On Tuesday, the International Monetary Fund's (IMF) 24-member board decided she should become the first woman to lead the global lending organization, which is recovering from a sex scandal involving the man she'll replace.
    When she begins a five-year term next week, Lagarde will take charge of a diverse group of international elites — one that was known for male-dominated clubbiness well before the scandal involving Dominique Strauss-Kahn, her predecessor.
    In her remarks on French television, she spoke of the cultural shift her selection represents.
    "While I was being questioned for three hours by 24 men, I thought, 'It's good that things are changing a little,'" she said.
    Not everything will change. Lagarde will become the 11th European to lead the IMF, extending a streak that began with the organization's creation in 1945. Among the challenges that await her, she must prod fellow Europeans to take painful steps to prevent a default by Greece.
    She'll also face pressure from developing nations that want a greater voice at the IMF.
    Should Lagarde, 55, succeed in changing the IMF's culture, it may have less to do with her gender than with her experience in corporate America.
    Before she entered politics in 2005, Lagarde led the Chicago-based international law firm Baker & McKenzie for five years. American management tends to be less tolerant of sex scandals and more likely to educate its staff on reporting harassment. At the IMF, Lagarde is likely to stress accountability and establish channels for reporting workplace grievances.
    Her selection became all but assured once the Obama administration endorsed her earlier Tuesday. She had also won support from Europe, China and Russia. Mexico's Agustin Carstens challenged her, but his candidacy never had momentum.
    Lagarde said her first priority is to unify the IMF's staff of 2,500 employees and 800 economists and restore their confidence in the organization.
    She also said she wants to meet with Strauss-Kahn, if permitted by the U.S. Government. Strauss-Kahn resigned last month after being charged with sexually assaulting a New York City hotel housekeeper. He has denied the charges.
    "I want to have a long talk with him, because a successor should talk with their predecessor," Lagarde said in the interview on French television channel TF1. "I can learn things from what he has to say about the IMF and its teams."
    Lagarde, the first IMF leader not to be an economist, will be expected most urgently to help stabilize Europe's debt crisis.
    Lagarde helped lead negotiations for a bailout package last year that combined European Union and IMF funds in a pool for highly indebted European countries.
    Lagarde's support for gender equality might help her put her stamp on the organization, said Susan Schadler, a former IMF deputy director who is a senior fellow at the Center for International Governance Innovation.
    "The IMF's culture is no different than any institution in the financial sector: It's dominated by men," Schadler said. "But I would imagine she would be a good influence and improve the environment."
    Other analysts noted that as a European and a woman, Lagarde is both a conventional and a bold choice to lead the IMF. Like her predecessor, she represents the French elite. But as the first woman to lead the organization, she represents a break with history.
    "She's the old guard and the new guard," said David Bosco, an assistant professor of international politics at American University.
    Throughout her career, Lagarde, the divorced mother of two, has already become familiar with the "first woman to..." tag.
    Born Christine Lallouette in Paris, she tasted success even in her early life, representing the French synchronized swimming team as a teenager.
    At 17, following the death of her father, Lagarde went to study in the United States for a year, where she perfected her English.
    After graduating from law school in Paris, she obtained a master's degree from the Political Science Institute in Aix en Provence.
    In 1981 she returned to the United States, joining the international law firm Baker & McKenzie as an associate, specializing in labor, anti-trust, and mergers and acquisitions (M&A).
    Eighteen years later, she became the first female chairman of the firm.
    Lagarde was appointed France's trade minister in 2005 and under her watch, French exports reached record levels.
    In 2007 she became finance minister, the first woman to hold this post not just in France but in any of the G8 major industrial countries.
    Never afraid of speaking her mind, she has blamed the 2008 worldwide financial crisis partly on the male-dominated, testosterone-fueled culture at global banks.
    One of France's most popular right-wing politicians, in 2009 she came second in a poll carried out by broadcaster RTL and newspaper Le Parisien on the country's favorite personalities, beaten only by singer and actor Johnny Hallyday.
    But her popularity has stretched beyond French shores and she is viewed with high regard in the international arena.
    In 2009, the Financial Times voted her the best finance minister in Europe.
    She has won international respect for demonstrating France's negotiating clout in key forums such as the G20, for which France currently holds the presidency.
    Lagarde is praised as a skillful and pragmatic negotiator with excellent connections on both sides of the Atlantic. She also has a reputation for being straightforward and frank.
    When the French complained about rising gas prices, she recommended that her compatriots should cycle. And she wasn't popular in Germany when she told German business to bring down their record exports and pay higher wages in order to give other European economies a better chance to compete.
    And her straight-talking manner has only added to her appeal.
    (SD-Agencies)
    "She is enormously impressive, politically astute and a strong personality. At finance meetings all over the world, she is treated practically like a rock star."
    — Kenneth Rogoff,former IMF chief economist