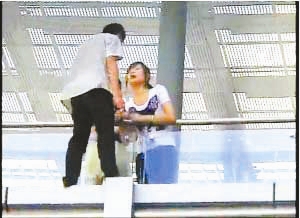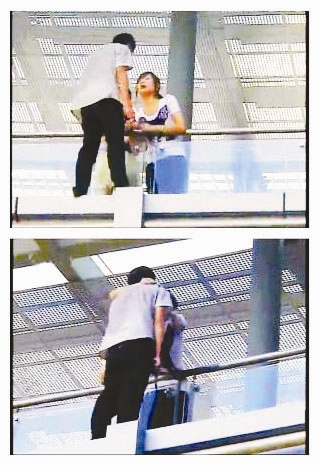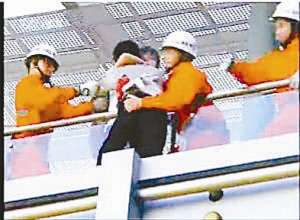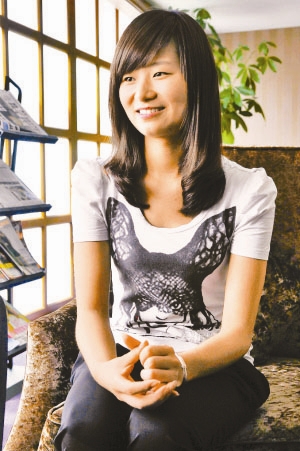 Tina Chen
    "I DIDN'T think too much when I kissed him. What I was thinking about was how to stop him from jumping," said Liu Wenxiu, 19-year-old girl who saved a boy with a kiss.
    Just a month ago, she was just another migrant worker.
    But on June 9, Liu Wenxiu, 19, a native of Bengbu, Anhui Province, became a star overnight for saving the life of a boy she didn't know, with a kiss.
    It is a thrilling and romantic story.
    A 16-year-old boy had decided to bring to an end his own difficult life. Liu quick-wittedly decided that a kiss would make him change his mind, before a group of firefighters rescued him.
    The video of her saving the boy has attracted more than 2 million views on the Internet. And she has made headlines in many newspapers and news Web sites.
    An ordinary girl has accomplished something that a professional negotiator would struggle to do, simply by showing some respect and compassion.
    Liu's deed won her the laudatory title of "Guardian Angel" and even influenced public opinion of the post-90s generation.
    A heroic feat
    Liu was shopping in Dongmen, Luohu District, with a friend when she came across the crowd near Renminnan Footbridge at about 3:10 p.m. that day.
    A young boy was confronting the police with a knife. He was very emotional as he threatened to jump to his death off the bridge.
    Liu couldn't stop herself from going through the crowd to stop the boy.
    "I am his girlfriend," Liu told the police. "He is doing this over me. Please let me persuade him."
    "At the very beginning, the boy was threatening us with a knife to his neck, preventing us from getting closer," said Liu.
    "So I talked with him carefully while moving closer and closer."
    The boy told Liu his mother died when he was very young. He later had a stepmother, who maltreated him and also cheated his father out of all his money.
    The boy said he doesn't want to live anymore because he had never been loved.
    "You can only understand others when you stand in their shoes," said Liu.
    "I couldn't stop crying with him because I had once felt the same. So he began trusting me and believed I could help him as his girlfriend."
    To everyone's surprise, Liu kissed the boy.
    "All I thought was I needed to make him calm down so I promised to be his girlfriend," said Liu.
    "I held him with a hug and kissed him," said Liu, "and he also held me with both hands."
    The firefighters took the boy back inside the rails instantly.
    "He was so weak and limp then. And I could finally relax," said Liu. "All I learned was that his name was Peng Xiangyang and he worked in Huiyang, Huizhou City, Guangdong Province, from his police statement."
    "I left my phone number to the boy afterwards but he hasn't called me yet," said Liu. "I hoped he could contact me. I want to know whether he is alright. After all, he is so young and has his whole life ahead of him."
    "My mother said I was foolish," said Liu. "She said, 'why don't you consider your own safety?'"
    Liu told her mother she just didn't want to watch a person die.
    A good communicator
    "I didn't think too much when I kissed him. What I was thinking about was how to stop him from jumping," Liu said.
    "Maybe I could manage it because I had been doing a job that required communication skills," said Liu. "My friends and colleagues all say I am good at communicating."
    Liu is working in Huibang Daban Hotel in Jingtian, Futian District. She is in charge of customer service at the hotel lobby.
    "We only found out about her deed from the TV a few days later," said an unnamed colleague of Liu. "She doesn't want to be too famous."
    "She has shown maturity beyond her age," said Lai, Liu's manager at the hotel. "She has a pro-active problem solving attitude."
    "She will listen to customers with patience until they have let off some steam. She is full of courage," said Lai.
    An unnamed policeman who was present that day said, "I didn't suspect at all that she was a stranger. She was talking with the boy and later crying with him. I had thought they were an intimate couple."
    "It's unbelievable," the policeman commented. "She was so quick witted."
    After all the public attention following her life-saving kiss, Liu said that she wouldn't change much. "I will still help others, but maybe in different ways," said Liu.
    A netizen identified as 1971 commented: "The life-saving kiss is a miracle."
    "Everyone has an angel in them. Liu's kiss has highlighted this part of all of us and can give us the courage to help others in need," he said.
    A timid girl
    Liu's grandparents said that Liu was actually a timid girl. They said Liu had been living with them since she was 6 as her parents both worked far away from home.
    They said she was afraid of the dark and didn't like to sleep alone.
    They also said they did not know she had it in her to show such bravery in rescuing another person.
    Liu has an elder sister with a disability. "My parents were quarreling and fighting all the time," said Liu, "and my sister and I were living very unhappily."
    Liu had also once made a suicide attempt and still has a scar on her wrist.
    "Now I am glad that I survived," she said.
    According to a teacher of Liu from Suwan School in Wuhe County, Bengbu, Liu was a hard-working student and successful academically before her parents divorced when she was in Senior One.
    The teacher said Liu lost her confidence in her studies and dropped out of school.
    "But she had always been willing to help others," said the teacher.
    Liu said her ideal boyfriend must be a good-tempered and caring person. "I don't care whether he is rich or not," she said.
    Liu said her greatest wish was to study a foreign language.
    "I regret quitting school at such an early age," said Liu. "I wanted to go back to school to study more things such as English and hotel management."
    Liu's father was running a logistics business in Dongmen, Luohu District, and would support her with the study plan.
    Liu said she also wished to join the Shenzhen Volunteers Association to do more for others.