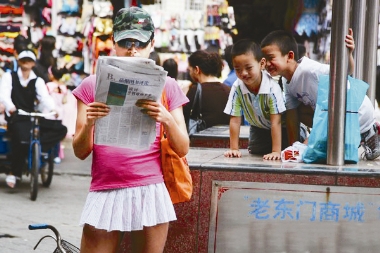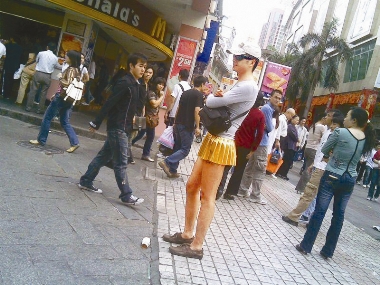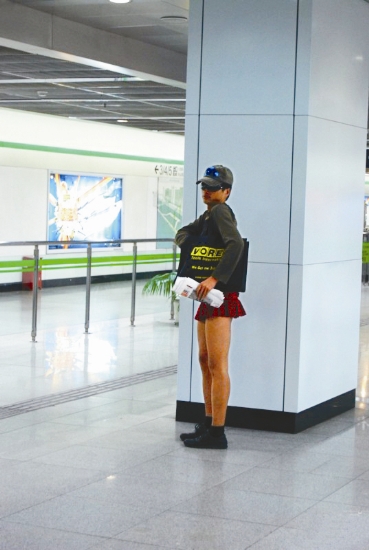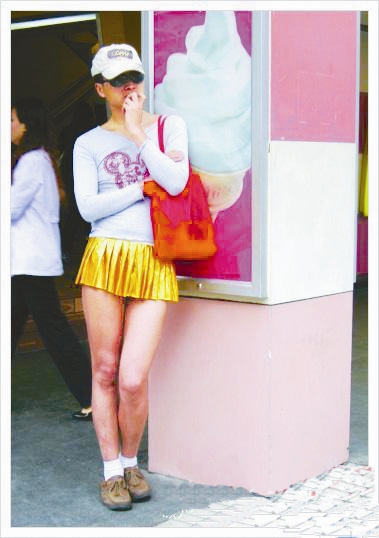 Wang Yuanyuan
    DONGMEN area in Luohu District is a place full of interesting sights. But Lin Zhibing still manages to stand out. Every day, people who think they have seen it, all stop and stare at him, a well-built man who wears a skirt.
    Lin is not afraid of drawing stares, because he does not see his preference for wearing a skirt as strange.
    He is quite a celebrity in Xiangxi village where he lives. "Everybody knows him. After you've seen him enough times, he no longer seems weird. He is just a nice, regular guy," said Wu Guozhi, a laundry owner.
    "At first, I was confused and miserable. But now I don't think of myself as a freak, just a man of different taste," Lin, 32, said.
    He no longer lets technical terms such as transvestism get to him. "There are many people in China who do the same thing as me, but I am not afraid to show it in public," said Lin, originally from Heilongjiang Province.
    Cross-dressing
    Lin suspects that his passion for cross-dressing may be genetic, although he didn't discover it until he was 20.
    "I had a very typical childhood. I would go to school, fall in love with girls, and after school I would help my parents on the farm," he said.
    Lin went to Shanghai in 2000. He dealt with the isolation and complexity of urban life by spending a lot of time alone on the famously lively Nanjing Road.
    One day, he saw a man on the road wearing a dress, confident and unfazed by all the staring. "I was immediately intrigued. A spark had been lit in my soul, and my life was changed," he said.
    One afternoon, a man in woman's clothing invited Lin for coffee. "He told me that I had to be true to myself. It was hugely inspiring. Since then, I have met many people with the same interest, and have decided to show my true self to the world," he said.
    Once Lin saw a young girl who looked ravishing in a pair of skin-tight white trousers. "I fell in love at first sight with those pants, so I immediately bought a pair from the women's section of a department store. When I put them on, I felt truly exhilirated," he said.
    Lin likes shopping and buys many of his skirts in Dongmen. "I like wearing mini-skirts partly because of the comfort and also because they compliment my figure," he said.
    Some clothes shop owners laugh at him, but he doesn't care. "You need courage to overcome society's prejudice," he said.
    Being a grown man at 1.78 meters tall, he sometimes struggles to find skirts in his size. "It is not a problem. I always see skirts I like in magazines and then get them tailor-made," he said.
    Inner struggle
    Shortly after the first time Lin experienced the joys of putting on women's clothes, he felt a sudden pang of depression.
    "For a long time, I thought I was perverted," he said.
    In 2006, Lin decided to turn over a new leaf, starting by throwing all of his women's clothes into the river.
    "I looked at those clothes being swept away and told myself that I would never look back. But three months later, I went back to putting on women's clothes," he said.
    Encouraged by his friends, Lin decided to go back to doing what he loved. "I found that I was far from alone in my habit. This led me to the conclusion that I am a sane human being," he said.
    However, Lin only wore his beloved skirts on weekends. "I am a salesman, so I wear a suit to work and don't let my colleagues know about my strange hobby. I'm not stupid. I don't want to lose my job as a result of being thought of as a freak," he said.
    Lin also hides his hobby from his friends and family. "I don't want to cause them trouble. I am from a rural village, and I don't want my parents to face gossip and ridicule. Also, I don't want them to worry about me," he said.
    The dating game
    Lin is very sure he is not gay.
    "I am straight and I like women. I have not had a date for a long time, but I am looking for a girl who I can marry," he said.
    Lin said cross-dressing is different to homosexuality. "I just like wearing women's clothes, but I am as attracted to women as any straight man," he said, "A lot of men have tried to flirt with me before, but I rejected them. I also thought about whether I was gay, but the thought of being with a guy was repulsive to me," he said.
    Lin has had two girlfriends and neither knew about his "strange" taste in clothes. "Although I have the courage to wear skirts in public, I didn't dare to tell either of my girlfriends about it," he smiled.
    He tried to enlighten his most recent girlfriend, a Shanghai native, about transvestism. "I thought Shanghai girls would be more open-minded, so I would sometimes mention cross-dressing, but she could not accept it. In the end, we had to break up because I knew she would never love me for who I really am," he said.
    Because Lin is 32 years old, his parents have pressured him to get married. "I am looking for the Miss Right who can marry me and have a baby. But I can't hide my true feelings for the rest of my life, therefore I just hope that there is a girl out there who is open-minded enough for me," he said.