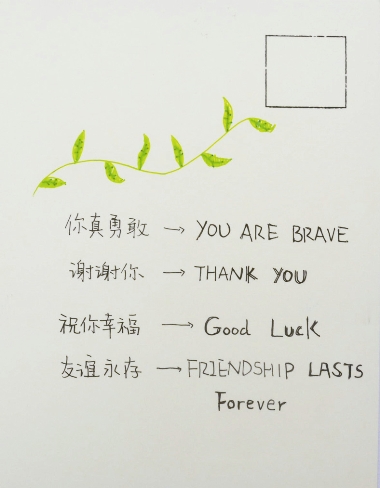 明信片,跨国寄感激
    Cao Zhen
    Right before the final exams in early July, more than 800 Senior 1 and 2 students in Shenzhen Foreign Languages School organized what they described as a "significant" activity — sending postcards to U.S. veterans to thank them for helping China resist the Japanese invasion during World War II.
    The activity was inspired by an exhibition at OCT-LOFT in May and June, according to Mei Yi, a teacher at the school. The exhibition displayed documentaries and photos of the China-Burma-India Theater (CBI) of World War II. CBI was the name used by the United States for its forces operating with British and Chinese allied forces in China, Burma, and India during World War II.
    Mei said the postcards, printed with the exhibited photos, were provided by local author Nan Zhaoxu. Nan's team selected 500 photos from more than 23,000 decades-old photos from National Archives of the United States for the exhibition and compiled them into a book — "National Memories."
    Nan also contacted John Easterbrook, a grandson of former U.S Army Four-Star General Joseph W Stilwell, to collect the name list and addresses of U.S. veterans who aided China in WWII.
    "The sending of postcards proves that in China, the young don't forget history," said Mei.
    "I've never been through a war. But hearing about what happened during the war and how it changed our lives, I sincerely wish that our world would always be in peace," a student identified as Dolphin wrote in a postcard.
    "By expressing their gratitude, the students learned that peace does not naturally occur. We have to strive for it," said Mei.