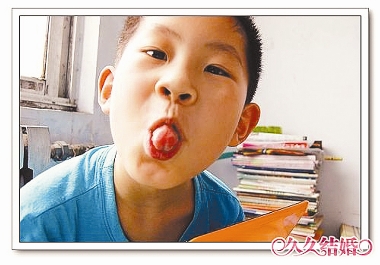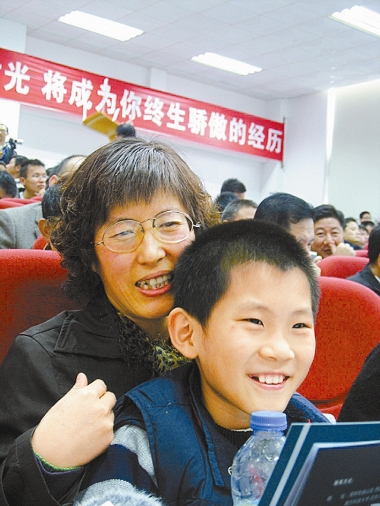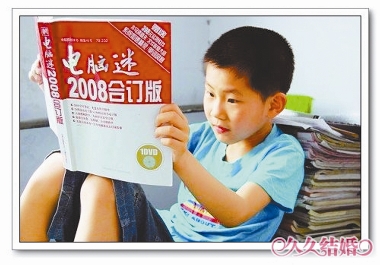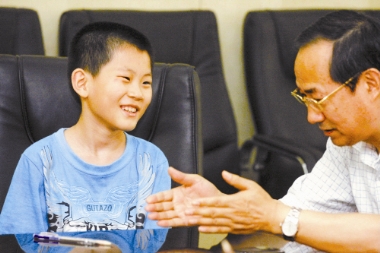 Tina Chen
    AN 11-year-old student at the Shenzhen-based South University of Science and Technology of China (SUSTC) suspended his studies two weeks ago, sparking concern about SUSTC's "pioneering" methods.
    Su Liuyi attracted much attention by being the youngest student to enroll at the new university last November.
    He scored 566 in last year's national college entrance exam (NCEE), higher than the score required to enter any of China's top universities. He was also the youngest person in the country to sit the exam.
    Even more notably, most of Su's education prior to attending university was home-schooling and he only got a month of high school education before he attended the NCEE.
    He had won first prize at the Shandong Provincial Olympics Math Competition, first prize at the Hope English Contest of Tai'an and third Prize of the National Cup of Hope Math Competition.
    With enthusiasm for mathematics and IT, Su mastered the computer languages, C language and VB language, within one year. He created his own computer operating system which could integrate a number of applications.
    Suspended campus life
    Su left the campus in Shenzhen for his home in Tai'an, Shandong Province, just a few days before the final exam of the semester.
    Zhu Qingshi, founder and chancellor of SUSTC, said Su Liuyi had not officially left the university but had gone home because he was homesick.
    His mother, Liu Xinxin, said that she brought him home because he had not adapted to campus life. "He has not quit the university," she said.
    She said her son was bored in class. "I took him home because I want him to be happy in his studies," she said. "He is too young to adapt to campus life."
    Su is typically mischievous for his age. He makes funny noises to draw attention. He pulls faces while posing for photos.
    It's hard for him to sit still, even for just half an hour.
    "I completed each of the NCEE exam papers half an hour early," said Su. "I couldn't sit there any longer."
    To Su, campus life is a strange world.
    Su, born in 2000, quit kindergarten he felt unchallenged. He mastered all primary school material before even entering a school.
    In 2007, Su enrolled at Taishan Bowen Middle School and completed all the middle school courses within a year.
    In September 2008, Su tried to study in high school but quit after several months. He had got used to being self-taught.
    Su had been longing, however, for a university education. "I have a hunger for knowledge and university is the best place to satisfy it," said Su, "so I took the NCEE."
    "I have learnt how to do laundry and am taking cooking lessons with my mother," said the boy.
    Su has to arrange his daily schedule as well as his curriculum alone. Even the height of the top bunk where he sleeps provides a challenge, forcing him to climb the ladder extra carefully.
    Exceptional capacity
    Su's biggest challenge at university is adapting to other students' learning capacity.
    "Su can't sit and pay attention for hours at a time," said Liu Xinxin. "He is only a kid."
    "Not because he can't follow the teacher, but he gets bored because he learns so quickly and the lessons move so slowly.
    "He told me he wanted to leave as he was bored by the course's simplicity."
    A former classmate identified as Li said on his microblog that Su had once left a math class, telling the teacher that he already knew everything.
    Another classmate of Su, identified as Wang, said in an online article posted in late June that Su was not liked by his classmates who stopped him from asking questions in class. Sometimes he was even sent out of the classroom.
    "Prodigies like Su Liuyi are rare," said Feng Xiang, Su's former math teacher in Taishan Bowen Middle School.
    Feng said she met Su in 2007 and was surprised by the little boy's knowledge.
    "It's a great challenge to teach Su as he has exceptional learning capacity," she said. "A group of us had to work together to tailor a course for him."
    Liu Xinxin added, "I let my boy quit high school as he said the courses could not challenge him."
    "Maybe it is in his best interest to just study alone," she said.
    An open question
    The question remains as to what is the best way to educate Su.
    Liu said she had allowed Su to attend SUSTC because she was attracted by the university's innovative education model.
    "I thought Su would be better educated if there were good professors," said Liu. "That's why I rejected offers from other prestigious universities."
    SUSTC was targeting elite students and hiring renowned professors as it pioneered a new method to tap the research and innovation potential of young Chinese students.
    "I won't judge a university by its rank. I think a good university will provide excellent professors and a nurturing environment to the student," said Su.
    "It is impossible to retain a talented student such as Su if you don't have excellent professors," said an unnamed professor who left SUSTC.
    "It is impossible to retain a talented student such as Su if you don't have excellent professors."
    — an unnamed professor who left SUSTC.