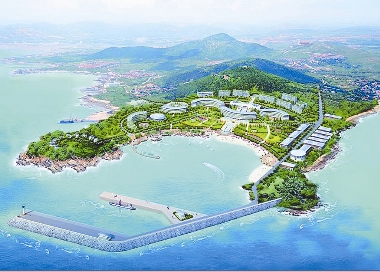 THE underwater manned vehicle, the Jiaolong, was operated at 5,188 meters under the sea level, which has hit the new record in the country's underwater study. Meanwhile, construction of the national deep sea base management center is also going according to schedule, preparing to offer facilities and services to vehicles.
    The center has held two training events on the use and repair of the underwater manned vehicle in Wuxi, Jiangsu Province and 12 students from the center attended the training, said Liu Baohua, director of the center.
    Meanwhile, a project on deep sea research by the center was also approved, receiving 15.72 million yuan in research funds.
    "We also participated in several national key projects to improve our skills," said Liu.
    Design of the base has already been finished and is waiting for approval from the State Ocean Administration. Other preparation work, such as location selection and land planning, has finished.
    The base will be built in Aoshanwei Town in Jimo. According to a research report, the base will cover 26 hectares of land and 62.7 hectares of sea. The total construction area is 24,526 square meters. Investment for the first phase of the project is 495 million yuan and will become a national-level public service platform for deep sea scientific research, ocean resources investigation and deep sea equipment development.
    "The center will become an incubator for the country's deep sea industry, providing technological support for the development of the blue economy in Qingdao and Shandong Peninsula," said Liu.
    (Wang Yuanyuan, Liu Baohua)