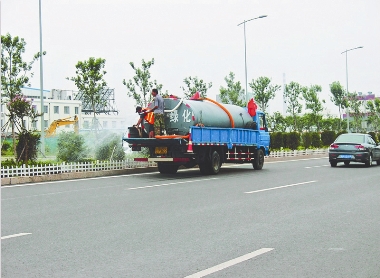 RECYCLED water will be used on the greenbelts along Huanwan Boulevard, one of the city's landscape boulevards.
    At present, construction of the facilities for recycling water is almost finished and they are expected to start operation in October.
    Pipelines have been installed underneath the greenbelts connecting to Licun River Sewage Plant. When the pumps are installed, recycled water will be led directly to the greenbelts.
    "The boulevard is just next to Jiaozhou Bay and the soil contains high amount of saline. Using recycled water will be good for the plants," said an engineer from the city's urban construction and investment group.
    "It is not only highly economical but also environmentally friendly," said Liu Hao, chief engineer of Licun River Sewage Plant. Recycled water costs only half the price of tap water. The project also cuts the cost of water transport and salaries for the workers who originally had to hose down the greenbelts.
    As the greenbelts will consume around 550,000 tons of water each year, replacing tap water with recycled water will save a lot on tap water.
    Total length of the greenbelts is about 15.6 kilometers covering 312,000 square meters. The plants include arbor, shrubs and grass.
    (Wang Yuanyuan, Shen Junlin)