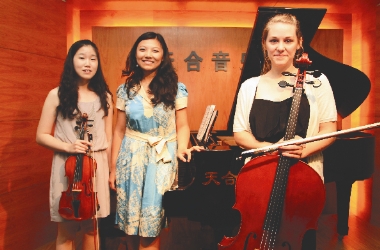 THREE female musicians from South Korea, the United States and China performed at the theater in Qingdao University, sharing their outstanding music.
    The three musicians were Qingdao pianist Tian Tian, South Korean violinist Amy Yi and American cellist Rachel Bottner. The three musicians met at an international music festival in the United States in 2008 and later went to Eastman School of Music together. Their performances have won several awards at two chamber music competitions in the United States and decided to hold special concerts together.
    The band hoped to introduce chamber music to more Qingdao residents through the concert, said Tian. "Many people thought classic music was very serious and boring and we hope to introduce them the fun, culture and deep meaning behind the programs through our performances," Tian said.
    The band will next hold a concert in South Korea.
    (Wang Yuanyuan, Li Wei)