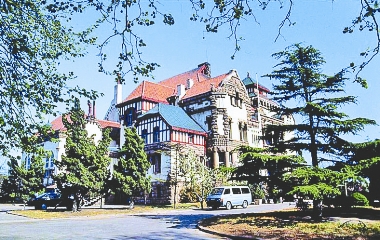 QINGDAO is known as a city of "red roofs and green trees." For about 100 years, the German-style architecture has become a name card of the city to attract visitors around the world.
    Since the 1900s, Qingdao has been a bridge between Chinese and Western arts, particularly the arts of architecture. Among these, the former site of the German Governor's Mansion is the representative, said Xu Feipeng, professor of Qingdao Technology University.
    Built in 1904 and finished in 1908, the mansion was selected to be one of the world's most impressive feats of architecture in 1999 due to its unique style and design. The building represents the highest level of German and European architecture at the beginning of the 20th century, said Xu.
    Although the building is a German-style piece of art, the mansion's architect was also fascinated by Chinese culture and added many Chinese factors to the design, such as the glazed tiles on the walls.
    These kinds of combinations are commonly seen in Qingdao's old buildings, such as the Suzhou-style garden sculptures at the former German primary school (today's Jiangsu Road Primary School), said Xu.
    In the beginning, buildings in Qingdao were mainly built with grey walls and black roofs. In 1901 when the German Government announced its city planning policies, black roofs were banned in the city and all the buildings would be built with red roofs. Since then, red has become the city's symbolic color.
    Over recent years, many German scholars and visitors came to Qingdao to trace its history through the buildings. They even had heated discussion with local experts on the buildings and decorations, hoping to discover the meaning, history and culture behind the rocks.
    (Wang Yuanyuan, Wang Pin)