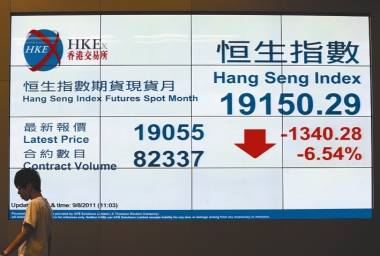 1. Asian markets sink
    Asian stocks tumbled* on Monday after last week's historic downgrade* of the United States' credit* rating, which compounded* concerns over the world's biggest economy as well as the global outlook.
    Tokyo shed 2.18 percent, or 202.32 points, lower at 9,097.56, Seoul sank 3.82 percent, or 74.31 points, to 1,869.44 and Sydney fell 2.91 percent, or 119.3 points, to 3,986.1. Hong Kong fell 2.17 percent, or 455.57 points, to 20,490.57 and Shanghai lost 3.79 percent, or 99.60 points, to 2,526.82, its lowest level since July 19 last year.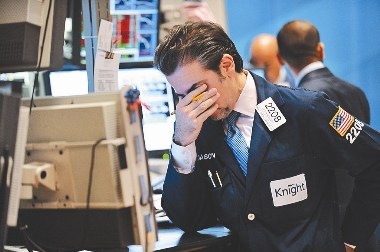 2. U.S. credit rating
    The United States lost its top-tier* AAA credit rating from Standard & Poor's on Friday in an unprecedented blow to the world's largest economy in the wake of a political battle that took the country to the brink of default.
    S&P cut the long-term U.S. credit rating by one notch* to AA-plus on concerns about the government's budget deficit* and rising debt burden.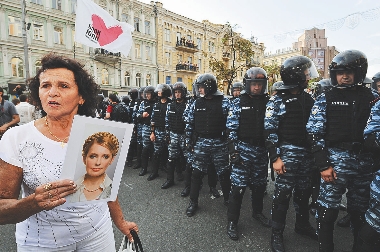 3. Ukraine ex-PM in custody
    A judge rejected on Monday requests by former Ukrainian Prime Minister Yulia Tymoshenko's lawyers to free her from police detention* during her trial on a charge of abuse of office.
    Since the trial began at the end of June, Tymoshenko has refused repeatedly to cooperate with judge Rodion Kireyev and denounced* him as a "puppet*" of President Viktor Yanukovich, her political opponent. She was placed in police detention last Friday for contempt* of court.
    4. U.S. shooting
    A man ran through his neighborhood on Sunday shooting eight people, including his girlfriend and her brother, before he was shot and killed in an exchange of gunfire with police, authorities said.
    Police did not have a motive* and did not release the names or ages of the gunman or the victims but provided a chronology* of the shootings that began around 11 a.m. in a middle-class neighborhood of Copley.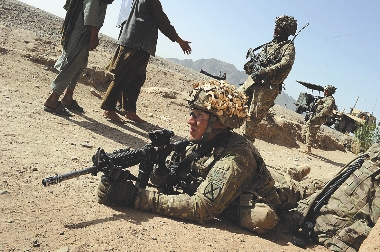 5. Helicopter crash
    Foreign forces in Afghanistan were investigating on Sunday whether insurgents* shot down a helicopter in what was the deadliest single incident for U.S. troops in a decade of war.
    Thirty U.S. soldiers — some from the Navy's special forces SEAL Team 6 that killed al-Qaida leader Osama bin Laden — seven Afghans and an interpreter died in Friday night's crash.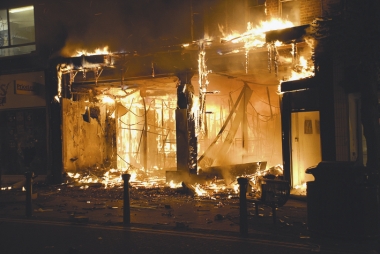 6. U.K. riots
    Violence has escalated* across London and spread to three other major British cities, as authorities struggle to contain the country's most serious unrest* since race riots set the capital ablaze* in the 1980s.
    The violence also spread to the central city of Birmingham, the western city of Bristol and the northwestern city of Liverpool.
    One police officer was hospitalized and seven others were injured during riots in Tottenham, London, police said on Sunday, after a demonstration against the death of a local man.
    7. Yemen clashes
    Yemen's president Ali Abdullah Saleh will leave hospital soon, a government source said on Saturday, as clashes between his loyalists* and opponents flared* in the capital he left when protests against his rule turned into open warfare.
    The fate of Saleh, forced to seek treatment in Saudi Arabia for injuries suffered in a bomb attack in his palace in June, has thrown the Arab world's poorest country into a political crisis.
    (SD-Agencies)