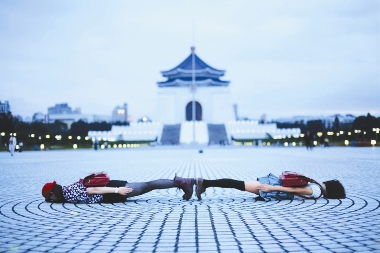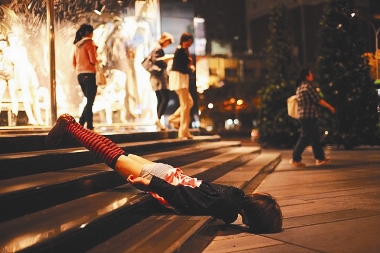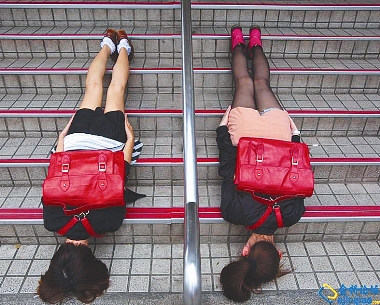 仆街少女风靡网络 深圳少年热衷效仿
    Wang Yuanyuan
    Lying face flat on the ground may not be the most glamorous pose but a growing number of teenage students have fallen love with it and see it as a form of action art.
    "It starts off as good fun and then you gradually realize the popular photos can be an effective way of raising people's awareness of issues such as environmental protection, animal protection and even the protection of local culture," said Wang Chengyu, a student from Shenzhen Polytechnic.
    Wang's photos, taken at the college, have been a popular topic for microbloggers.
    Liu Yuyang, a high school student from Songshanhu School in Dongguan, is another popular "planker" on the microblog.
    "I did not think too much about it. I like doing it and my friends love it, as simple as that," he said.
    The action art first drew wide attention on the Internet after a pair of young Taiwanese women put their pictures on the Internet.
    Identified as Karren and Jinyu, the two women got their idea from similar poses they had seen in western media.
    Their Mandarian title is "Pujie Girls," which literally translates to "falling on the street." The name is also a pun on the Cantonese curse "Puk Gai," which means "may you drop dead."
    Taiwan's best-known pair of plankers have almost 100,000 fans on Facebook. They are so popular that the Weibo, China's version of Twitter, has invited them as VIPs to promote their activities across the straits.
    In fact, they use it to promote causes, such as planking with stray dogs to draw attention to the plight of the animals, or planking in famous tourist spots to promote travel.
    "My parents think what I am doing is pointless, but I just want to do something crazy when I am young," said Wang.
    In Wang's opinion, planking is not as easy as seen in the picture. "A man in Australia was killed when planking, so you have to manage the right way to keep balance and avoid getting hurt. It's very challenging, dangerous and exciting when you are planking in an awkward place," said Wang.
    However, Liu's school was not quite supportive. "Teachers did not say much about me and my planking. They just told me not to let this affect my studies. I think they are afraid that such activities might cause some problems if a lot of students are devoted to it. For me it's okay because it's just a form of personal expression and a good way to send out good messages. I hope to do it more for good causes in the future, making it meaningful to me and other people," Liu said.