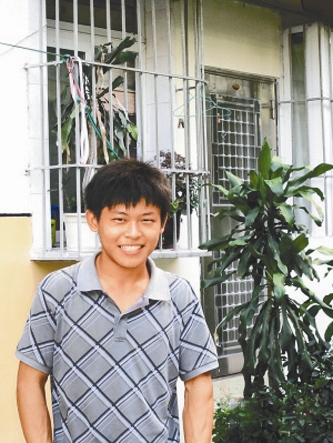 打工青年自学六年考上美国大学
    Wang Yuanyuan
    A 23-year-old migrant worker in Shenzhen will set off to study at Miami Dade College in the United States this month to fulfill his dream of becoming a student.
    Yang Yicheng from Jiangxi Province will study business management at the university for four years and plans to later go back to Shenzhen to start his own business to repay those who have helped him over the past six years.
    "I am a very lucky man. In my time in Shenzhen I have received a lot of help that has given me the strength to persist" he said.
    Like many children from poor families, Yang came to work in Shenzhen with his parents in 2003. His family had a stall to sell fruits in Shajing Subdistrict, Bao'an District.
    In 2005, Yang met an American, only identified as Nash, who came to the stall to buy fruit at night. "It was the first time that I'd seen a foreigner. I was curious and nervous," Yang said.
    Nash was teaching English at Shenzhen Middle School and Shajing Middle School at that time. He said that he wanted to help Yang study because he did not want Yang to drop out of school at such a young age.
    "In the beginning, he came quite often to help me sell fruit and later he told my parents he could help me with my study and cover all my living expenses so that I could find a better job in the future," Yang said.
    Yang moved in with Nash who lived in Dongmen, Luohu District, one month later and started his journey of learning. "I basically taught myself. I started with history and natural science and later I read the English books that Nash had lent me, such as ones about business and philosophy," he said.
    For a junior middle school graduate, it was very hard for Yang to teach himself and read all those English books, but he had never thought of giving up. "I have one hope, which is to go to university," he said.
    Nash left China in 2008 and Yang's parents went to work in Zhejiang Province. However, Yang chose to stay in Shenzhen and work part-time jobs to support himself. "I did a lot of jobs and it was hard. All these difficult experiences convinced me to study harder and change my destiny," he said.
    Yang's diligence has impressed an American businesswoman in Shenzhen, identified as Garcia. "I got to know him from Nash and was so moved by how hard working he is, so I asked him to work at my company and promised him to cover all his living and studying expenses if he can go to an American university," Garcia said.
    "The more they helped me, the more I wanted to study harder to repay them. I spent most of my time studying and watched a lot of English movies and news to practice my listening in my spare time," Yang said.
    Finally, Yang passed all the examinations last year and started applying for university.
    "A lot of people helped me. They gave me money and support and invited me to stay with them over weekends and holidays. I will try my best to study hard in the States and come back to repay them," he said.