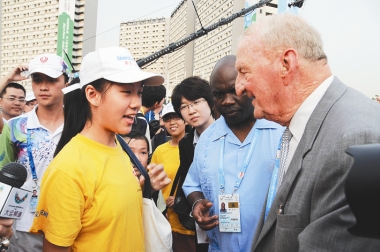 林小茵 华侨城小学
    On Saturday, we attended the opening ceremony of the Universiade Village.
    As the village, I saw many Universiade volunteers wiping the sweat from their forehead.
    The scorching weather didn't stop them from helping the visitors with a smile on their face.
    The most exciting part of the day came when I interviewed FISU president George E. Killian.
    I began by saying: "First I want to welcome you to Shenzhen. I know you've been to Shenzhen many times. Can you tell us how Shenzhen has changed in your experience?"
    "Yes I've been to Shenzhen many times, and I think it's a beautiful city. You know, the city's like a big tree. It changes very fast. Every time I come here, some new branches have suddenly grown," Mr. Killian said.
    "And what do you think about the Universiade Village?" I continued.
    "It's wonderful, it's wonderful!" Mr. Killian exclaimed.
    "Thank you very much. Thank you," he told me.
    "You're welcome!" I replied with my heart pounding very fast. He was so kind to me. While reporters snapped photos of us, Mr. Killian was not distracted. I was grateful that he treated me as an adult.
    It was a big day for me. I learned a lesson: if you want to be successful, treat other people with respect.