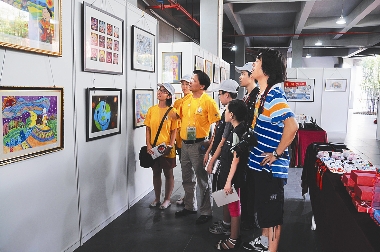 温鼎辰 深圳中学
    The wonderful gifts from Shenzhen students at the opening ceremony of the Universiade Village made a deep impression on me.
    In the cultural experience zone, we saw art works made by students from Shenzhen schools. The city's Education Bureau chose 300 outstanding examples from over 30,000 entries. The art works will be given as gifts to foreign athletes.
    There were many kinds of art such as painting, calligraphy, sculptures and handicrafts. The works are very beautiful, full of the spirit of the Universiade. I even wished I were an athlete so that I could get one.
    In the village, I interviewed several athletes from Madagascar. They were surprised by the splendor of the village. I think they will be even more excited when they receive the gifts from students.
    After that, we interviewed an official of the International University Sports Federation. He praised the Universiade Village, saying he believed the Universiade would be a success.