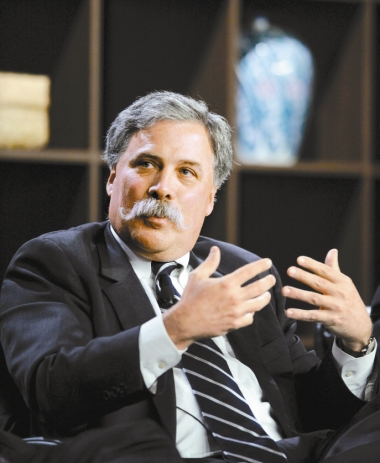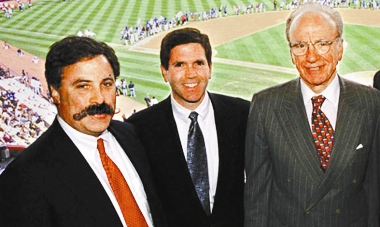 Rupert Murdoch said top lieutenant Chase Carey would replace him should anything befall the 80-year-old News Corp. CEO. The comments were the clearest sign yet that Murdoch's son James may be sidelined after a phone-hacking scandal swept its U.K. newspaper unit.
    LEADING News Corp. may not be the attractive job it was before the company became embroied in a phone-hacking scandal, but the pay would probably take the edge off.
    And when aging chief executive officer Rupert Murdoch finally steps down, it looks like that job won't go to his son, James Murdoch.
    Speaking with reporters during the company's quarterly earning call, the senior Murdoch unofficially tapped top lieutenant and chief operating officer Chase Carey as the next in line.
    "Chase is my partner and if anything happened to me I'm sure he'll get it immediately — if I went under a bus," the 80-year-old told Reuters when asked about the company's line of succession.
    This marks the first time Murdoch has spoken publicly about succession or revealed that his son was not his first pick.
    Media experts and analysts have wondered for several years who would replace Murdoch once he stepped down. Speculation has centered on his children as well as executives outside the family.
    Murdoch also said the media company's board wants him to remain CEO after the hacking scandal raised questions about his leadership.
    The big question on the minds of many people is whether Murdoch would continue to supervise News Corp. after fresh revelations of the hacking charges, which have resulted in several high-profile departures from the company and the arrests of 12 ex-staffers.
    Murdoch told investors that the board gave him its backing.
    "The board and I believe I should continue in my current role as chairman and CEO, but make no mistake. Chase Carey and I run this company as a team, and the strength of that partnership is reflected in our improved results," Murdoch said.
    Stock analysts give Carey credit for many of the massive media conglomerate's smarter decisions since he returned in 2009 for his second go-round.
    In fact, Carey's expertise is on the forward-looking side of the News Corp. equation.
    He holds the rather grand title of deputy chairman, president and chief operating officer at News Corp. In other words, he looks after the day-to-day operations of the firm.
    He is, observers say, rather more focused on the bottom line than Murdoch, and hence less partial to making expensive and costly punts, such as buying MySpace for US$580 million in 2005.
    As such, he is popular among shareholders.
    He has also proved his worth to the corporation since first joining in 1988, distinguishing himself in the role of chief executive of satellite network DirecTV by adding millions of new subscribers. News Corp. subsequently sold the network.
    His return to his current role in 2009 was greeted with enthusiasm by shareholders, who like his straight-talking and down-to-earth persona as much as his business acumen.
    And they reward him handsomely. Carey, 57, earned a total of US$26 million last year, according to Forbes magazine.
    If it takes steel to play rugby — as Carey did for a club team at Harvard Business School — then being the top outsider in a family business probably requires titanium.
    The book on Carey is that he qualifies on both counts.
    He's become Wall Streets' fair-haired, handlebar-mustachioed boy as the News Corp. phone-hacking scandal tears at the company flanks.
    Even the mere rumors that Carey was to succeed Murdoch rather quickly gave the stock an overnight 3.7 percent boost on the eve of the News Corp.'s CEO appearance before a Parliamentary committee.
    He was the architect, along with Peter Chernin, of the corporate surge that came when Fox Sports Network and Fox News Network stomped onto the North American cable television landscape in the 1990s.
    He's the guy credited with shoving the losing MySpace division to the curb. And he's said to be unsentimental about the newspaper and publishing side of the company at a time when cold-blooded decision-making is at hand.
    And as News Corp. has descended into turbulent waters in recent weeks, Carey seems to be deftly working behind the scenes to steady the ship.
    Sensing the incendiary public temperature, it was reportedly Carey who convinced Murdoch to abandon his attempt to purchase British Sky Broadcasting.
    Another damage-control measure that top analysts have attributed to Carey was the decision to buy back US$5 billion in New Corp. stock in the wake of the inflammatory hacking headlines.
    When Murdoch hastened to London as the scandal deepened, and was seen heading grim-faced into the New Corp. crisis bunker for Parliamentary interrogation, Carey was also spotted entering.
    And when Murdoch emerged smiling some hours later, some of the credit for his change in mood went to Carey.
    Carey received his bachelor's degree from Colgate University and an MBA from Harvard. While attending Colgate he joined the Delta Upsilon Fraternity.
    Carey first came to work with Fox, a News Corp. holding, in 1988. Over the course of the following decade he served as COO of Fox Inc., and CEO of Fox Broadcasting. During this time he helped launch both Fox Sports and FoxNews. He also served as co-COO of News Corp., along with Chernin.
    During the time that Carey was working for News Corp., News Corp. obtained controlling interest in Hughes Electronics, which at the time owned DirectTV, a satellite TV provider. Carey served on the DirectTV board of directors and in 2003 was chosen as DirecTV CEO.
    At DirecTV, Carey had plans to add 1 million new subscribers a year, and had met that goal when he left the company six years later. By all accounts, Carey's tenure at DirecTV was considered successful, bringing the company back to profitability.
    In 2006, News Corp. sold its controlling interest in DirecTV to Liberty Media, in exchange for News Corp. shares.
    In June 2009, it was announced that Carey would be leaving DirecTV and returning to News Corp. He assumed the posts of president and COO that had been held by Chernin, as well as the post of deputy chairman.(SD-Agencies)