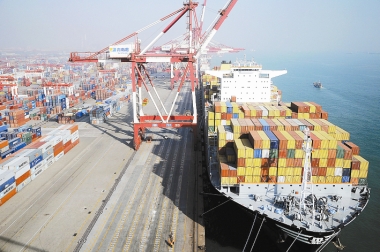 THE service industry's added value is expected to reach 570 billion yuan in 2015, an increase of 15 percent year on year. The service product per person is expected to reach 62,000 yuan, 2.05 times the amount in 2010, according to a recent meeting on the development of the service industry.
    Service industry reform is expected to finish in five years with a complete industrial system centered on the service economy, making the city a regional service center in Shandong Province and Northeast Asia. Service quality is also expected to improve significantly and related industries are expected to be promoted.
    The city will build a regional finance center and an international shipping hub in Northeast Asia, a regional air hub, an international coastal tourist center and a regional technology information center in five years.
    During the next five years, the city will speed up development in four areas including modern logistics, tourism, trade and real estate, promote five high-end industries with high added value such as finance, cultural creativity, agency, software and information and technological service, and incubate six new industries such as exhibitions, sport, energy saving, resident services, education and health care.
    (Wang Yuanyuan, Shen Junlin)