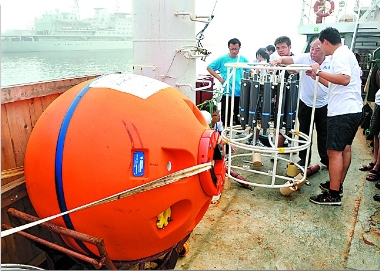 THE marine research ship "Science No.1" from the Institute of Oceanology of Chinese Academy of Sciences returned to Qingdao after finishing summer research for the national natural science foundation.
    The research team retrieved two deep sea submerged buoys which were set in the North Pacific in 2010 and placed three new buoys.
    The research will provide basic data for Northwestern Pacific Ocean Circulation and Climate Experiment, an international scientific cooperation program initiated by Chinese scientists.
    Important data were also collected for testing the country's underwater glider.
    The ship set off from Qingdao on July 4 and sailed 7,000 nautical miles. There were 42 scientists on board from several top scientific research organizations.
    They had also conducted research and experiments in areas such as hydrology, climate, chemistry, biology, geography and marine equipment.
    (Wang Yuanyuan, Zhao Di)