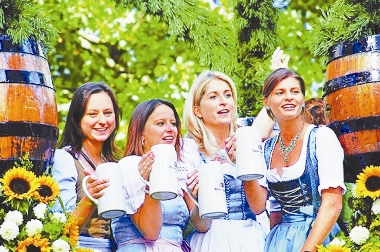 THE 21st Qingdao International Beer Festival opened Saturday, attended by 20 well-known foreign brewers from 13 countries and regions. There are more than 200 varieties of beer at the festival.
    More brands
    Last year, with King Royx, a beer brand from Tanzania in Africa, the festival realized its dream of gathering beers from five continents.
    The world's top 10 beer brands gathered in Beer City center this year. Brewers from China, the United States, Germany, Britain, Denmark, Mexico, the Czech Republic, Japan, the Netherlands, Tanzania, Singapore, Belgium and the Philippines attended the festival.
    The 20 beer brands provided 200 varieties of beer such as Krombacher, Paulaner, Bitburger, Cerna Hora, Heineken, Carlsberg, Asahi, Corona, King Royx, Becks and Millers.
    3 new brands
    There are three new beer brands at this year's festival, including Becks from Germany, Millers from the United States and Cerna Hora from the Czech Republic.
    Millers was the first low-calorie beer in the world, so it is called a "noble beer" in the United States. Becks is well-known for its refreshing taste produced through a special process. Cerna Hora has a long history of more than 700 years.
    "The Qingdao International Beer Festival has been held for 20 years. We not only try our best to promote our local beers but also attract more foreign brands to promote a beer culture in China," said an organizing committee official.
    Festival feast
    The festival is being held at the 260-square-meter beer center this year and a large HD screen has grown to 54 square meters to show stage performances.
    A series of concerts have been held on the center stage featuring classic songs from China, Japan, South Korea, Kazakhstan and Ukraine and there will also be a beer drinking competition.
    German beer is a regular at the festival with Becks maintaining its popularity.
    The German Beer Hall has a classical German style with a variety of beers, such as the Becks Limon featuring low alcohol, special fragrance and abundant vitamins.
    (Wang Yuanyuan, Qing Bao)