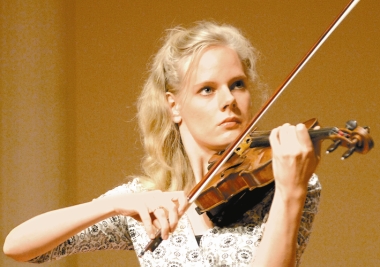 A TOTAL of 45 violinists from 12 countries and regions will attend the 3rd China International Violin Competition in Qingdao in October. First prize is US$50,000.
    Competition entries closed June 30. There were 113 entries from 20 countries and regions including China, South Korea, Japan, the United States, Russia, Germany, France, Britain, Australia, Poland, North Korea, Canada and Austria. It was the first time violinists from Bulgaria, Poland and Armenia had entered the competition.
    Expert teams short-listed 45 contestants from the 113 entries. The selection was held July 8 to 10 in Britain and the judges were leading professors of music at overseas universities.
    Among the 45 contestants, 13 are from the Chinese mainland and two are from Taiwan.
    Many Chinese contestants had entered the competition before, including Zhang Xiaxia, Lao Li, and Wang Jiantang.
    Organized by the Ministry of Culture and the city government, the competition is held in Qingdao every three years. The first was held in 2005. This year's competition will be from Oct. 12 to 24 and the judges include 13 top musicians from around the world.
    (Luo Yunzi, Wang Yuanyuan, Li Wei)