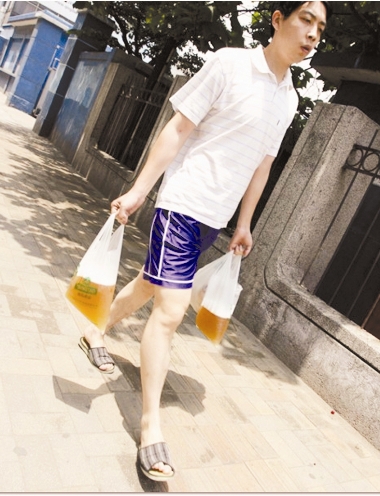 BEER has always had a close connection with Qingdao since it was first introduced to the city 100 years ago.
    In Qingdao, it is common to see residents returning home with beer in plastic bags or sitting drinking on the street. In August, the scent of beer is everywhere and you can taste the character of the city in a glass of fresh, cold beer.
    First beer campaign
    Tsingtao Beer first started selling in 1903 when a German brewery was founded to produce it.
    Beer was introduced a little earlier. After the city was taken over by Germany, beer was imported on German ships. At the time, beer was precious in Qingdao, so a German businessman took the opportunity to build a small brewery, providing beer to German officials and soldiers, but the brewery soon closed down.
    In 1903, a new brewery was established and all the equipment was imported from Germany. On Oct. 1, 1904, a local newspaper carried its first advertisement, saying the first bottles of beer would be sold in December. The advertisement also introduced the technique and process of making beer.
    A Chinese name
    As a foreign product, beer was originally not welcomed by locals. At the time, there was no Chinese name for the drink and everybody called it by the German name, "bier." It was said that many Chinese threw up when they first drank "bier," saying it tasted like "horse urine."
    To boost sales, the factory gave it a Chinese name, which sounded like "beer." However, the Chinese character had the same meaning as "skin" in Chinese, so the factory changed it to "mai jiu," which meant the drink was made from wheat.
    But the new Chinese name did not help increase sales, so the factory changed the name again. They said the drink could be good for the spleen and stomach and created a new Chinese character from the Chinese character for spleen. The new name attracted many Chinese because people thought it was a healthy drink.
    Beer in plastic bags
    Visitors are surprised to see Qingdao residents buying beer in plastic bags instead of bottles and cans.
    The bag also has a story. In early times, the brewery also produced beer in glass bottles, but it was mainly sold in other cities because it had a longer shelf life. Some residents could only buy bottled beer at big festivals, so most people bought bulk beer which they preferred because it was fresher than bottled beer.
    In the past, many people in the city took kettles to fill with bulk beer. However, common containers used to buy bulk beer were gradually replaced by modern containers, and it was difficult to find suitable containers for bulk beer. So the factory invented special plastic bags to hold fresh bulk beer. The bags were functional and were welcomed.
    Beer houses
    Beer houses are everywhere and unlike pubs in foreign countries, the beer houses in Qingdao serve only the freshest beer.
    Most beer houses are quite small with just a few tables and chairs. Beer drinkers spend most of their spare time in the houses with just a few dishes with their beer. In their opinion, there is no better place to chat with friends than a beer house.
    (Wang Yuanyuan, Wang Xiaolei)