THE popularity of buffet dinners has swept from Hong Kong to the mainland. Riding on the trend, the TCT Global Buffet Restaurant — managed by Hong Kong-based Taoheung Group — recently reopened after renovation.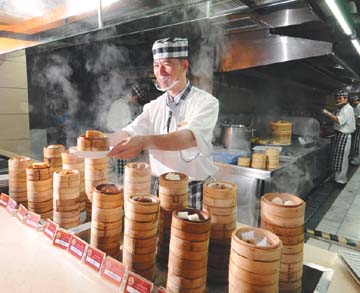 Offering Chinese, Thai, Japanese and European dishes, the restaurant aims for the highest standards in food but keeps prices affordable for ordinary mortals.
The TCT Global Buffet Restaurant, with a number of open kitchens and stalls that serve as food showcases, can accommodate 400 guests in its 1,800-sqm area.
Stepping into TCT is like entering an upmarket holiday resort in Southeast Asia: Teakwood pavilions and balconies are everywhere; sunlight shines through roof windows, filling the restaurant with a relaxing and comfortable atmosphere.
The open kitchens, whose furnishing and equipment cost 3 million yuan, offer various specialties. Diners can taste such delicacies as braised abalone with fish maw, lobster accompanied by abalone and scallops as well as desserts including Haagen Dazs ice-cream sundae. From Monday to Thursday, the buffet also serves cooked-to-order sea cucumber stew.
In all, there are more than 400 dishes at the buffet, including popular curry crabs, seafood sushi, Beijing roast duck, grilled leg of lamb with spiced mustard and rosemary, Cantonese dim sum and chocolate fountain.
Guests arriving in the month of their birthdays will enjoy buy-five-get-one-free treatment.
Add: 6/F, Building B, Friendship City, 63 Youyi Road, Luohu District
Tel: 8222-3458, 8220-2822
Metro: Guomao Station (国贸站), Exit A
(Debra Li)