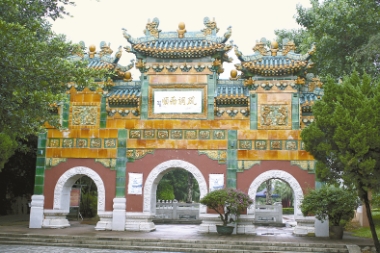 James Baquet
    LONGXING Temple is located in Longyuan Park near Shuanglong, the last station on the Metro Longgang Line (Line 3).
    Notice all the "longs" there? "Long" is Chinese for "dragon," and these colossal figures feature largely in Longyuan Park, which has dragon statues, a Five-dragon Pavilion, a nine-dragon screen wall, and even a stage located under a giant dragon's chin.
    Continuing to the west end of the park, you'll go past the Arhat Pagoda, through a beautiful tiled gate, past a pond, and finally reach Longxing Temple.
    The building was formerly a Taoist/folk temple called "Guanyin Pavilion." (Guanyin, the Bodhisattva of Compassion, is closely associated with dragons.) But it came under Buddhist management this summer.
    Much of its former Taoist/folk spirit remains. A huge Guanyin and her attendants occupy the main altar; the other Buddhist figures in the hall (a Thousand-armed Guanyin, a Dizang Bodhisattva, and a Medicine Buddha) all look like late additions.
    On the second floor are 10 more Guanyins, and the top floor has a Shakyamuni Buddha in a small "Ten Thousand Buddha Hall."
    But the real treasure lies in an easy-to-miss "Dragon King Hall" below the temple's main plaza.
    Here are larger-than-life figures of the God of Wealth, the Goddess of the Sea, the so-called "God of War," the Dragon King himself, and others.
    These are staples of Taoist/folk tradition, and are clearly of superior make to the "Buddhist" figures upstairs.
    Don't miss them if you visit this interesting small temple.