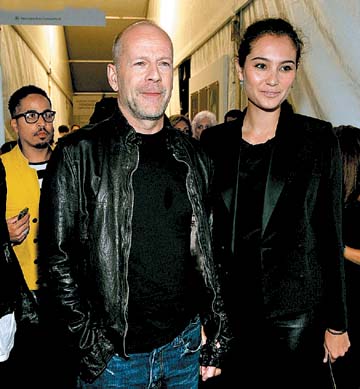 A REPRESENTATIVE for the "Die Hard" star confirms that the actor and his 35-year-old wife, Emma Heming, are expecting their first child together early 2012.
In a statement released to the press, Bruce Willis' representative said that the couple, who married in the Turks and Caicos Islands in March 2009, "are overjoyed with this news and they look forward to welcoming this newest addition into their family."
It will be the fourth child for 56-year-old Willis. From his previous marriage to actress Demi Moore, the actor who will reprise his role as Mr. Church in "The Expendables II" has three daughters: 23-year-old Rumer, 20-year-old Scout and 17-year-old Tallulah.
Back in 2009, the star of "The Sixth Sense" talked about the possibility of expanding his brood. "It has been suggested we begin breeding immediately," he said at the time. "[But we are taking it] one day at a time. Really slowly."
Willis' baby news came amid speculation that his ex-wife's marriage to Ashton Kutcher is on the rocks. "Two and a Half Men" star Kutcher has been accused of sleeping with Sara Leal in his San Diego hotel room on the weekend of the couple's sixth wedding anniversary.(SD-Agencies)Bruce Willis and his wife Emma Heming.