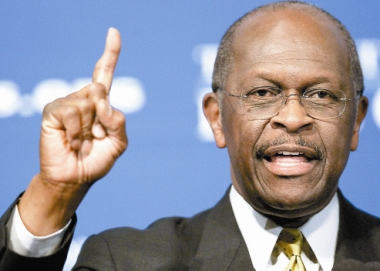 A THIRD woman considered filing a workplace complaint against Herman Cain over what she deemed aggressive and unwanted behavior when she and Cain, now a Republican presidential candidate, worked together during the late 1990s, the woman told The Associated Press on Wednesday. She said the behavior included a private invitation to his corporate apartment.
    The woman said he made sexually suggestive remarks or gestures about the same time that two co-workers had settled separate harassment complaints against Cain, who was then the head of the National Restaurant Association of the United States.
    The woman said she did not file a formal complaint against Cain because she began having fewer interactions with him. Later, she learned that a co-worker — one of the two women whose accusations have rocked Cain's campaign this week — had already done so. She said she would have felt she had to file otherwise.
    His actions "were inappropriate, and it made me feel uncomfortable," she said.
    Cain's campaign denied anew that he had done anything wrong, decried a "smear campaign" as he is riding high in opinion polls and accused rival Rick Perry's operation of being behind the original stories.
    Perry told the conservative RedState blog late Wednesday that his campaign "had absolutely nothing to do with it."
    Earlier, the Perry campaign suggested yet another candidate, Mitt Romney, might be a source. Romney's campaign denied the allegation.
    Romney spokeswoman Andrea Saul denied that the campaign was involved in the disclosure of the sexual harassment allegations. And Romney refused to comment on Cain in a television interview.
    Cain himself, in an interview with Forbes, said he believed a Perry consultant gave information about the allegations to Politico, which first published a story late Sunday evening.
    Meanwhile, another woman who worked with Cain at the restaurant association, said: "I found him to be a good boss." Christina Howard, a former lobbyist for the association, said: "I felt no problem going into his office and asking for his advice."
    She said she did not recall allegations about Cain during his tenure and added: "I'd roll my eyes at anyone who would make that allegation."
    But Chris Wilson, a pollster who did work for the restaurant association during Cain's tenure, said in an interview that he witnessed the businessman making inappropriate comments and gestures toward a young woman who worked for the group during a dinner.
    Throughout this week, Cain tried to project an image of campaign business as usual, but he appeared frazzled at times and could not escape the questions that have dogged him since the report Sunday night that at least two women had complained about his behavior while at the restaurant association and had been given financial settlements. The controversy has arisen two months before the leadoff Iowa caucuses and as polls show Cain at the head of the GOP field alongside Romney.
    "Don't even bother asking me all of these other questions that you all are curious about, OK? Don't even bother," a testy Cain told a throng of reporters.
     Cain was born in Memphis, Tennessee to Lenora Cain, a cleaning woman and domestic worker, and Luther Cain, Jr., who worked as a barber and janitor, as well as a chauffeur for Coca-Cola president Robert Woodruff. Cain has said that as he was growing up, his family was "poor" but "happy."
    Cain graduated from Morehouse College in 1967 with a bachelor of science degree in mathematics. Cain received a master's degree in computer science at Purdue in 1971.
    After completing his master's degree, Cain left the Department of the Navy and began working for The Coca-Cola Company in Atlanta as a computer systems analyst. In 1977, he moved to Minneapolis to join Pillsbury, soon becoming director of business analysis in its restaurant and foods group in 1978.
    At 36, Cain was assigned in the 1980s to analyze and manage 400 Burger King stores in the Philadelphia area. At the time, Burger King was a Pillsbury subsidiary. Under Cain, his region posted strong improvement in three years.
    Cain's success at Burger King prompted Pillsbury to appoint him president and CEO of another subsidiary, Godfather's Pizza. Cain arrived April 1, 1986, and told employees: "I'm Herman Cain and this ain't no April Fool's joke. We are not dead. Our objective is to prove to Pillsbury and everyone else that we will survive."
    Godfather's Pizza was performing poorly, and had slipped in ranks of pizza chains from 3rd in 1985 to fifth in 1988. Under Cain's leadership, Godfather's closed approximately 200 restaurants and eliminated several thousand jobs, and by doing so returned to profitability.
    In a leveraged buyout in 1988, Cain and a group of investors bought Godfather's from Pillsbury.
    Cain left Godfather's Pizza in 1996 and moved to Washington, D.C., to become CEO of the National Restaurant Association, a trade group and lobbying organization for the restaurant industry, on whose board of directors he had previously served. Cain's lobbying work for the association led to a number of connections to Republican lawmakers and politicians.
    Cain married his wife Gloria in 1968. She is a homemaker and has also served stints as a teacher and a librarian. The couple have two children and three grandchildren.
    In 2006, Cain was diagnosed with Stage IV cancer in his colon and metastases to his liver and given a 30-percent chance of survival. Cain underwent surgery and chemotherapy following the diagnosis, and has since reported that he is in remission. (SD-Agencies)
   High-profile sexual harassment cases in 2011
   HERE'S a look at the most high-profile of the sexual harassment allegations in the United States and the men behind them.
    David Wu, July
    Former Oregon politician David Wu was a Democrat in Congress who was elected to the House of Representatives seven times. Wu was re-elected in 2004 despite a previous sexual harassment claim. He resigned July 26 amid allegations he had a sexual encounter with an 18-year-old woman.
    Anthony Weiner, June
    The most prominent sexual harassment story regarding an American politician in 2011 revolved around former Congressman Anthony Weiner, a Democrat from New York. For weeks starting in late May, Weiner was accused of posting a sexually explicit photo of his private parts on his Twitter account. Then as allegations mounted, news broke that Weiner's wife Huma Abedin was pregnant. Weiner finally resigned June 16, three weeks after the scandal broke. He waited until his wife returned from an overseas trip to the Middle East before agreeing to resign his post. Weiner was a popular figure in New York politics who considered running for mayor.
    Christopher Lee, February
    Christopher Lee was a Congressman from upstate New York who resigned in late February in the middle of his second term. Lee's scandal broke when a topless picture of him surfaced on the Internet after he sent the inappropriate photo to a woman. The New York Times reported Lee quit hours after a Web site published an e-mail exchange with a 34-year-old woman. Lee is married and has a son. (SD-Agencies)
    Poll shows Cain with big lead in GOP field
    A NEW poll is out showing Herman Cain still with a commanding lead in the Republican primary.
    Quinnipiac's latest election survey shows Cain with a commanding lead over his Republican rivals for the party's presidential nomination, with 30 percent support, 7 points better than second-placed Romney. Their release sums up the findings:
    Former Godfather's Pizza CEO Herman Cain leads the Republican presidential primary field with 30 percent, followed by former Massachusetts Gov. Mitt Romney with 23 percent, former House Speaker Newt Gingrich with 10 percent and Texas Gov. Rick Perry with 8 percent, the independent Quinnipiac University poll finds. No other candidate tops 7 percent.
    Some may point to this data as backing up the counter-intuitive notion that the story of Cain's resurfaced sexual harassment accusations from his time as head of the National Restaurant Association. As The Atlantic's Wire Elspeth Reeve noted: conservatives who've ditched other candidates may not be quick to abandon Cain. But if the scandal continues, this could also mark the peak of Cain's meteoric rise in the primary campaign.
    (SD-Agencies)